Manu Tuilagi: Centre should be given a run of club games before playing for England
England should not rush Manu Tuilagi back for their clash with Wales, say Ieuan Evans and Will Greenwood.
Last Updated: 27/02/14 8:32pm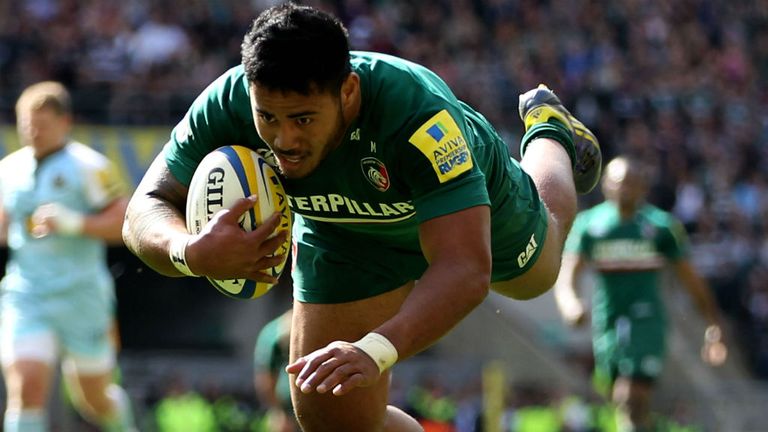 Tuilagi is set to make his return for Leicester this weekend against Newcastle after being sidelined since September with a pectoral injury that required surgery.
The 22-year-old has been a key weapon for England in attack but Ieuan Evans says that no matter how well he goes on Sunday, he should not be included in England's Six Nations squad to face Wales a week on Sunday.
"I think it would be a big risk to bring him back in," Evans toldSky Sports News. "He needs game time and Leicester will be thrilled to get him back.
"He has been the focal point for England's attack over the last few seasons and their attack has revolved around him, but it's a bit early to bring him back at this time.
"He is capable of terrorising defences but he needs a run of games to get back to fitness, while I also think England need to reward Luther Burrell.
"He did not have much opportunity against Ireland and I think he needs to get the ball in his hands far more.
"He's scored two tries in the first two games and I think they should stick with the midfield partnership they have at the moment."
Will Greenwood, who knows a thing or two about playing in the centre, agrees and says to bring Tuilagi back would be a sign of panic.
"Stuart Lancaster has built a squad that really trust each other," he added. "The days of panic switches because someone has been injured or because you are worried about the Welsh midfield are gone.
"It is all about the power of the squad rather than the force of the individual. All good sides tend to rely on that. Tuilagi may get some bench time against Italy but I would be very surprised to see him facing Wales."
Extra dimension
Evans may not think that Tuilagi should go straight back into the England squad but he does want to see Alun-Wyn Jones and Jonathan Davies return for Wales.
Jones missed last weekend's clash with a toe injury and should be back but Davies, like Tuilagi, suffered a pectoral tear that has ruled him out since November.
He is due to play for the Scarlets against Munster this weekend and could see himself lining up for Wales at Twickenham if all goes to plan.
"Alun-Wyn brings an added line-out presence," added Evans. "He is a Lions captain and is one of the top second rowers in the world. He will come back in.
"Davies is of real interest. Wales would love to see him back on the field as he brings a left-foot option which helps their kicking game enormously and he is probably the best outside centre in the Northern Hemisphere.
"He brings an added dimension and he brings some subtly to the Welsh attack which can be one dimensional at times. He can bring something extra that can really trouble defences."
Greenwood added: "Davies was rightly picked in that third Lions Test above Brian O'Driscoll. He is a wonderful footballer and as an Englishman I am getting slightly brassed off that he is getting fit for the penultimate game which is against us!
"Alun-Wyn Jones is not someone who you want to see on the opposition team sheet. When you hear he is missing you have a little fist pump - he is a tremendous leader and a tremendous athlete.
"This will be a huge game. This will be the last time these two meet each other before they meet in the World Cup pool of death that also has Australia.
"Wales are going for a third consecutive Championship - no one has ever done that and if they win at Twickenham then they are in the box seat.
"England have to strike a blow - and England WILL beat Wales on Saturday."