Giteau axe baffles ex-coaches
Australia coach Robbie Deans has been criticised by two predecessors for dropping Matt Giteau.
Last Updated: 21/07/11 8:49am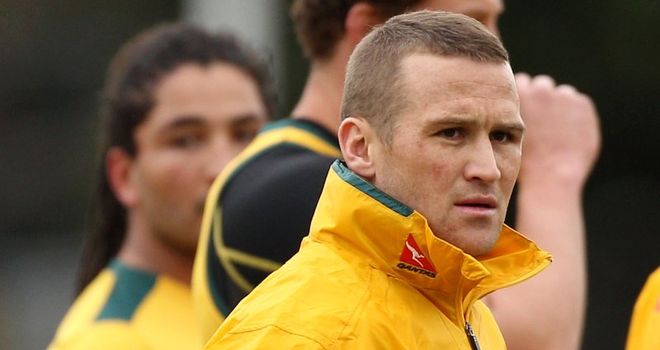 Australia coach Robbie Deans has come under fire from two of his predecessors for the decision to drop Matt Giteau for the Tri-Nations opener.
Giteau, a 92-cap veteran who can play right across the back division, has been left out of the Wallabies' 22-man party for Saturday's showdown with South Africa in Sydney.
The 28-year-old now faces a battle to return to favour in time for the World Cup, which takes place in New Zealand in September and October.
Eddie Jones, who coached Australia to the World Cup final in 2003, and John Connolly, who oversaw their 2007 World Cup campaign, both criticised Giteau's omission.
"I think the whole thing is quite sad to be honest," Jones told The Sydney Morning Herald.
"If I was a supporter, the one player I'd be happy to pay money to see would be (Giteau) - he gives his heart every week.
"Right now, for some reason, Robbie doesn't see him as the answer at number 12."
Tough
Connolly, who was in charge of Australia for the 2007 tournament, said Giteau is one of "the toughest characters I've ever coached".
"I've coached first-class rugby for 20 years and two people spring to mind for what they bring to team (in toughness) - Matt Giteau and Tim Horan," Connolly told the Herald.
Wallaby great Horan feels Giteau is too good a player not to go to the World Cup.
"For a number of reasons I would not only have selected him in this weekend's 22, but I would have him on the plane to New Zealand as well," Horan wrote in the Daily Telegraph.
"His experience and quality are unquestionable, and Giteau's leadership at the ACT Brumbies during a battling 2011 season was impressive.
"Those are the qualities you need in a World Cup squad."