Cooper on the offensive
Quade Cooper insists he is ready for more extra attention from Richie McCaw in Saturday¿s Bledisloe Cup clash.
Last Updated: 02/08/11 10:49am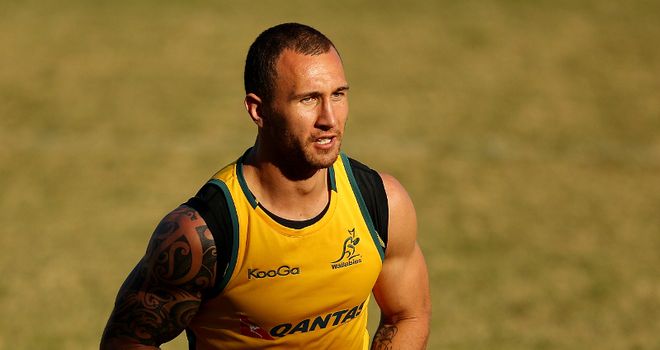 Australia's dynamic fly-half Quade Cooper insists he is ready for more extra attention from Richie McCaw in Saturday's Bledisloe Cup clash at Eden Park.
Cooper will play Test rugby in New Zealand for the first time in Auckland on Saturday, and if that was not enough to start the nerves jangling then there is his on-going feud with All Blacks skipper McCaw.
Cooper shoved McCaw after the Wallabies scored their winning try in last year's Test match in Hong Kong, something which angered the All Black and which he has still not forgotten.
McCaw tried his best to hit back at the Queensland Reds' playmaker during the Super Rugby season, but it was Cooper who came out on top as his team defeated McCaw's Canterbury Crusaders in the Super 15 final.
All that adds up to an angry McCaw waiting for Cooper at Eden Park, along with a boisterous home crowd and it will be a baptism of fire for him on his Test debut on New Zealand soil.
Team
Cooper talked down his spat with McCaw as he trained with Australia ahead of the Tri-Nations clash, saying he was not solely focused on one man during the game.
"He's already said 'hello' to me a few times this year in the Super 15 so there's no real reason to reacquaint there," he said.
"It's out on the rugby field and there's a lot of things that are going to go on, and there's 14 other blokes to worry about out on that field so I won't be concentrating on one bloke."
Both teams go into the game after walloping under-strength South Africa in their Tri-Nations openers, and they both know Saturday will be a much tougher assignment.
Flashy 23-year-old Cooper has provided a creative flair in the Australian team and he has no intentions of holding back from his usual all-out attacking style just because of the opposition.
Australia have not won at Eden Park for 25 years and the All Blacks have not lost a Test on the ground for 17 years, but Cooper knows it is a vital game in their World Cup preparations and will continue to take the game to the opposition.
"That's the philosophy of the game that I like to play and I'm not going to change that game just because we're playing at Eden Park against the All Blacks," he said.
"I'm going to go out there with the same mind-set with a good group of guys around me."