Australia fly-half Quade Cooper hits out at the coaching methods of underfire Wallabies boss Robbie Deans
Australia fly-half Quade Cooper has criticised the coaching methods and tactics of Wallabies boss Robbie Deans.
Last Updated: 21/11/12 8:45am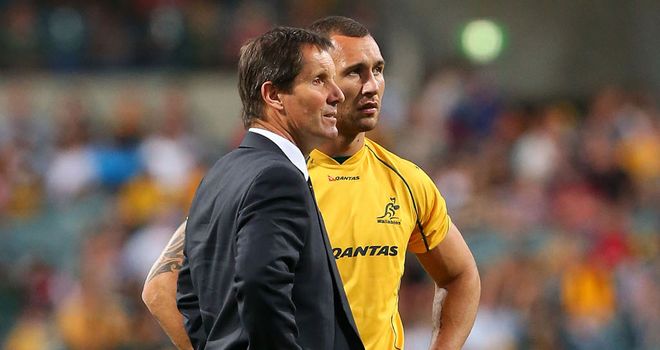 Cooper, one of the most flamboyant and imaginative players in rugby, says the tactics are too conservative and says the atmosphere in the Wallabies camp is "toxic".
Cooper, 24, currently out injured, slammed the Australian Rugby Union and the Wallabies set-up in a series of weekend Twitter posts.
"I love rugby but there's something going on behind and above the players (that affects) the whole organisation!" Cooper wrote.
When a Twitter follower told Cooper he should be allowed to play in his trademark exciting manner, the Queensland Reds fly-half replied with an apparent shot at Deans' conservative tactics.
"I am allowed from February to May sir," Cooper said, in reference to his Super Rugby season under Reds coach Ewen McKenzie. "If people want to go out there and play a boring brand of football then there's other guys they can pick to do that."
Cooper later said the tweets were not solely an attack on Deans but on the whole Wallabies set-up: "There's a lot of people who are afraid to say what they feel so they just go along with it and nothing is going to change," Cooper said.
"That's why I feel so strongly as a player. I don't want to be involved in the toxic environment, and that's how it is at the moment."