Australia Rugby Union insist Quade Cooper was offered substantial deal
The Australian Rugby Union have rejected claims they offered Quade Cooper a downgraded contract.
Last Updated: 21/11/12 8:43am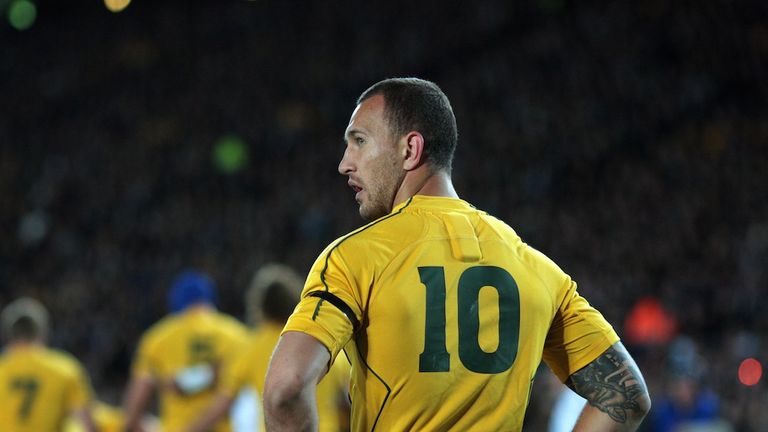 The outspoken fly-half will hold a press conference on Monday where he is expected to announce his departure from Australian rugby.
It was reported that Cooper was offered an incentive-only contract after describing the Wallabies as a 'toxic environment' and criticising coach Robbie Deans.
However, ARU high performance boss David Nucifora says they offered Cooper an attractive deal and are not attempting to drive the 24-year-old out.
"Like any player's contract I'm not going to go into what it is or how it's put together, but it's a substantial amount of money that I think any player would be happy to accept, to be honest," he said.
"I see this thing about a 'rookie' contract. There's no rookies in Australian rugby that earn that sort of money.
"It's a substantial contract, it's not a rookie contract."
Cooper has been linked with a move to rugby league but that looks unlikely as few NRL clubs would be able to accommodate him under the salary cap.
Moves to France or Japan are possibilities for the 24-year-old, who is also set to make his boxing debut in February on the undercard of Sonny Bill Williams' bout with Francois Botha.
Talented
Australia captain Nathan Sharpe says the loss of Cooper would be keenly felt by the international side.
"Quade is a very talented player," he said. "I suppose people have to make their decisions. It is an individual thing for the individual.
"I don't know too much about it but it is disappointing to hear. The more players you have like that in Australia, the better. But sometimes the chips don't fall where you want them to."
Ex-Wallabies coach Bob Dwyer admitted Cooper had polarised fans with his comments but says he should remain in Australia and prove a point to the ARU.
"There are a lot of rugby fans that are so disappointed with what Quade said that they would think he is better off going," he said.
"I didn't like what he did either, but I would like us to do all we can to help him not do it again, not throw him out with the dishwater."