Robbie Deans thrilled as Australia finish European tour with last-minute win over Wales
Robbie Deans said Australia's last-minute victory over Wales was a fitting end to "a game that had everything."
Last Updated: 01/12/12 8:36pm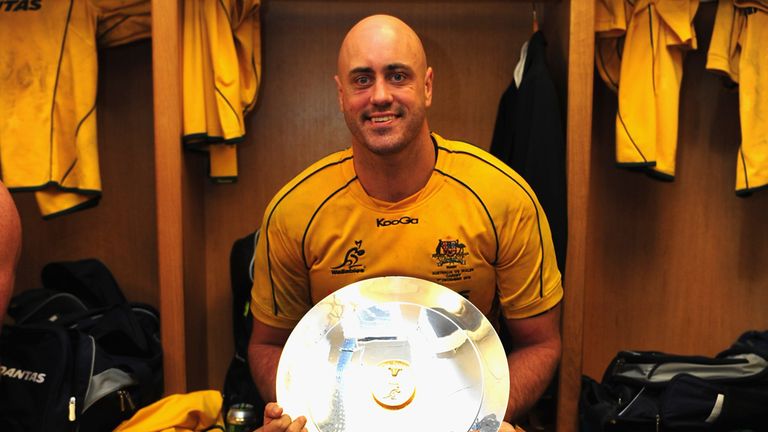 Kurtley Beale scored a fine try in the corner to ensure the Wallabies finished their tour with another win, following victories over England and Italy.
It was also a fitting way for skipper Nathan Sharpe - playing in his 116th and final Test before retirement - to finish his career.
"It was a fast and physical game," Deans said. "Just to be in the game at the end is a credit to them and to have enough to get up, even better.
"It was always going to come down to 'not much'. We'd produced a lot of pressure earlier and hadn't converted it.
"The lads just felt that if they kept knocking, who knows, it might open. The 80th minute is when teams are most vulnerable because they've given a lot."
"It was a great game as all of our encounters with Wales have been this year. It was a great Test match to finish the year on, it had everything.
"Credit to the lads for even being in the game at the end, they have had a huge year and that was a fast and physical game so to be in the game at the end was credit to them, but to get up to win it was even better."
Sharpe - who tried and failed to convert Beale's try with the last kick of the match - admitted he will miss the game.
"It's what I have done as long as I can remember," he said.
"I might have to find some walls to run into every weekend to ease my way out of it I think.
"The thing I will miss the most is being in that team environment and having a goal that is in that pressure cooker situation.
"You love it and you hate it, it's big highs and low lows so that will be most challenging thing for me."