Sean Fitzpatrick: All Blacks still have plenty to prove
Sean Fitzpatrick says that New Zealand are the team to beat in the Rugby Championship.
Last Updated: 15/08/13 1:38pm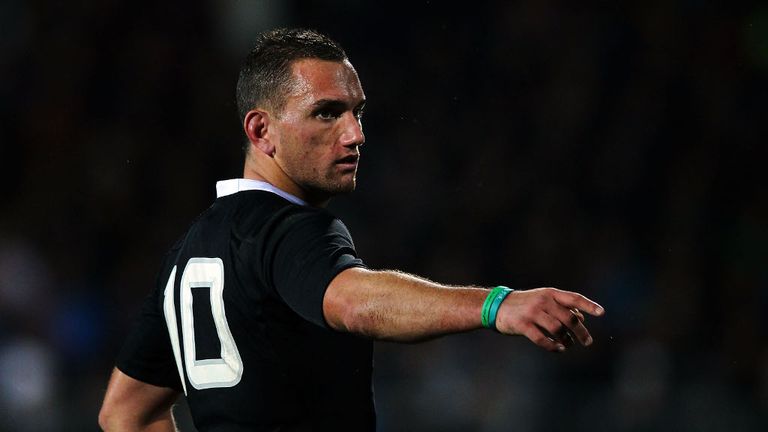 The defending champions, who are also the current World Champs, kick of their 2013 campaign off in the Bledisloe Cup game against Australia on Saturday.
The last time New Zealand played was at Twickenham where an inspired England put them to the sword 38-21, however the former All Black hooker and captain has no fears for the up and coming tournament that also includes South Africa and Argentina.
"I am very happy where New Zealand rugby is at the moment," Fitzpatrick told skysports.com
"The Chiefs led the way in this year's Super Rugby competition and to win back-to-back titles is a testament to how well they played. There is a lot of talent coming out and a number of new players came through - I thought Tawera Kerr-Barlow was quite outstanding for them.
"Aaron Cruden is another player who has impressed me and is going from strength to strength. He will get a run out on Saturday against Australia which will be a good thing. Losing Dan Carter to injury is certainly not a major blow, the New Zealand coaches have made it perfectly clear that they are developing a team to defend the World Cup in 2015 and Cruden will certainly be part of that. They are not being stupid about it, they are bringing in a few players and dropping players like Piri Weepu and Victor Vito who must go and improve their game if they want to compete in the black jersey again.
"When Graham Henry was in charge he said that the All Blacks must be 15 per cent better in every game and I think that is something that the current coaches still strive for. New Zealand have to keep ahead of the pack - especially the likes of South Africa and Australia and will also be looking to sharpen their cutting edge."
The likes of former Australia captain Andrew Slack have questioned the All Blacks' hunger and desire as well as their 'ageing' squad, however Fitzpatrick has no concerns.
"Some people over in Australia seem to think that the All Blacks are vulnerable - that we have an ageing squad, but I have no issues with that whatsoever. You may say Conrad Smith is getting a bit old but he's currently in fine form. Richie McCaw is coming back fresh and he's still the best in the world, so why would we drop the best player in the world?"
All change in the scrum
A key aspect of Saturday's game will be the new scrum rules that will hopefully stop the continuous scrum resets that have become a bane on the game.
'Crouch, touch, set' will be replaced with 'crouch, bind, set', with the props binding with their opposite number on the back or the side. Only when the ref calls 'set' are they allowed to push and the hope is that the scrum comes down to technique rather than getting the first hit in and relying solely on power.
Fitzpatrick, who played 92 times in the front row, is looking forward to seeing how the new laws unfold.
"I will be very interested to see how the new scrum rules go," he said. "They have done a lot of training with the new laws but you can never tell what effect it will have until you play in a proper arena.
"Hopefully it will be an improvement on what we've had to endure for the last few years which has been a real scourge on the game."
Pressure on the Wallabies
While Fitzpatrick is backing New Zealand all the way he is well aware of the threat from the Springboks, Pumas and the Wallabies. He is especially interested to see how Australia get on under new coach Ewen McKenzie.
"I think New Zealand are the team to beat; on current form you'd have to say that. I'll be interested to see how Australia back up after the Lions. They've had a lot of rugby this year, even the Super XV for them there was a lot of pressure on the players to perform. And then to have the Test matches against the Lions I imagine would have taken a bit out of them, but I think with the new coach they're going to have a different sort of feel to them, hopefully there'll be a bit more unity within the squad.
"I wouldn't write them off; all the injuries they've had over the last few years have given them a lot of depth and that's the thing they really lacked in years gone by, a very good 21, 22, 23 players.
"There are a few issues with South Africa at the moment, added Fitzpatrick.
"I think the 'foreign player thing' is going to rear its head again; I know they can pick 'foreign' players but they've sort of steered away from it haven't they. When you get half the Bulls playing in Japan and France you can only go on so long not picking your best players.
"We are lucky that we have the depth to get away from it - that or the power of the All Black jersey keeps our best players in New Zealand."
Argentina may not have won a game in their debut season in the Rugby Championship - although they drew with South Africa and threw away a solid lead against Australia with 20 minutes to go - and Fitzpatrick is expecting them to be as competitive as ever this year.
"I thought Argentina really added something to the competition last year; they broke up the three superpowers that are playing week in, week out. Argentina brought something new to the party and added something; people I've spoken to thought they did really well and I think they had that South American flair.
"They want to do well and I think they've shown in past competitions, even last year, that if they play consistently together, like in the World Cup, and if they get some time under their belt as a unit they can be as good as most people."