Alun-Wyn Jones says Wales can't afford to dwell on history against Australia
Talisman Alun-Wyn Jones says Wales cannot afford to dwell on five years of missed opportunities against Australia.
Last Updated: 29/11/13 11:25pm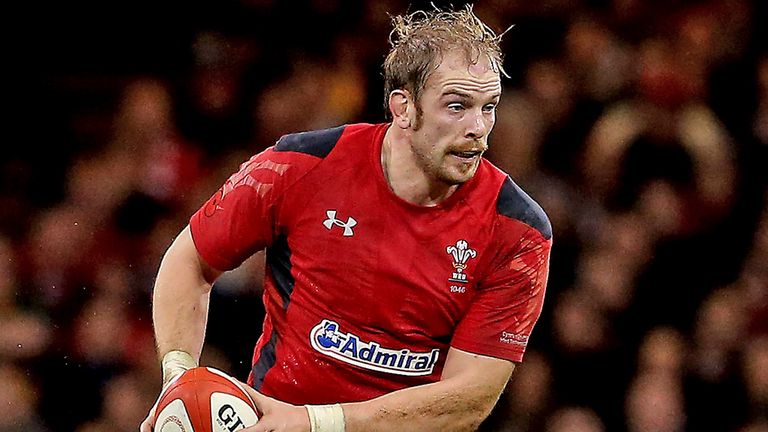 Jones is among only two survivors from that which claimed a 21-18 victory over the tourists during the 2008 autumn campaign.
It has proved to be a protracted tale of woe since then, with the Wallabies claiming eight successive victories - four by three points or less - in Cardiff, Auckland, Brisbane, Melbourne and Sydney.
"We realise we have been there or thereabouts, but that's not essentially good enough," said Ospreys lock Jones, who captained the British and Irish Lions in their memorable third Test triumph against Australia earlier this year.
"Yes, we've beaten them in the Welsh jersey before and we are perfectly capable of doing it and we know we can do it. There is obviously an opportunity to do that at the weekend.
"The danger of looking back (to 2008) is that we were at a different stage then.
"Warren Gatland had just come in, and possibly it was a honeymoon period of a new coach and a new vibe in the side.
"Since then, we haven't won many autumn games in comparison to the number we've played. So we can look back and say 'yes, we've done it before,' but we would be cautious to go that far back because a lot of things have changed in the game, although you can also take a bit of heart out of it."
Recent history between the countries and judging by some of the scorelines in Australia's favour - 20-19, 25-23 and 14-12 - suggests that Saturday's Millennium Stadium clash could again go down to the wire.
The Wallabies showed sufficient composure to stun Wales 12 months ago through an 80th-minute Kurtley Beale try, while New Zealand's stunning injury-time effort against Ireland last weekend showcased the southern hemisphere giants' mastery at retrieving seemingly lost causes.
"They (New Zealand) are fortunate enough they have formed a habit of being composed under pressure," Jones added.
"They were under more pressure earlier on in that game against Ireland than they were in the final, dying minutes. They knew if they kept the ball that they would eventually score.
"There was nothing spectacular. It was nothing we haven't seen in the past.
"The only way to do it is to try to do it. Warren has said the only way you learn to be able to play with a calm head under pressure when you are chasing the game or trying to close the game out is by continuing to do it against these bigger sides.
"We have faltered the last four times when Wales played Australia. At least three of those games we should have won, but the scoreline tells us different."