Richie McCaw reacts to the All Blacks' record-breaking win in Argentina
Skipper Richie McCaw hailed one of New Zealand's best performances of the season after the 54-15 thrashing of Argentina.
Last Updated: 30/09/12 6:08pm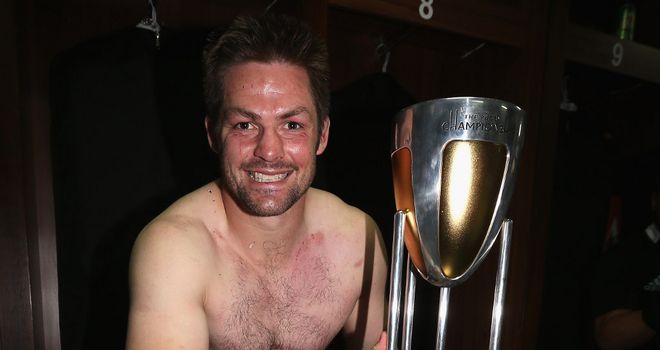 The record win by the All Blacks in seven Tests on Argentine soil saw the world champions take an unassailable nine-point lead over second-place South Africa with one round to go.
It also stretched the winning run of the side to 15 matches - three short of the record held by Lithuania - with Tests in South Africa and Australia next month before a November tour of Europe.
"It was one of our best performances this season," said flanker and long-time captain McCaw.
"When we started out in the Championship the goal was to put last year behind us. We have got the tag of world champions and we needed to play like them.
"To secure the Rugby Championship was obviously the big goal and it is nice to be able to do that. We gave a performance the guys are pretty happy with. It is the manner in which we did it that was so satisfying."
While coach Steve Hansen was happy to see his side lift the Rugby Championship, he refused to rest on their laurels, believing the All Blacks canv improve further.
"We can pat ourselves on the back and enjoy the moment, but there are still areas to improve on and one of them in the connection between the forwards and the backs," he said.
"To be able to attack like that you must have a platform to work off so the forwards can be very proud. Our rucking was also much better than against South Africa."
Argentina coach Santiago Phelan believed his team had made too many defensive errors in the match.
"We set out to try and do things better with the ball, but took a step back in our defensive organisation," he said.
"Some of the tries stemmed from our mistakes, others from the effectiveness of the All Blacks."