New Zealand star Dan Carter thinks England should be performing better
Dan Carter is surprised that England have not remained an elite international force after their glorious year in 2003.
Last Updated: 27/11/12 5:19pm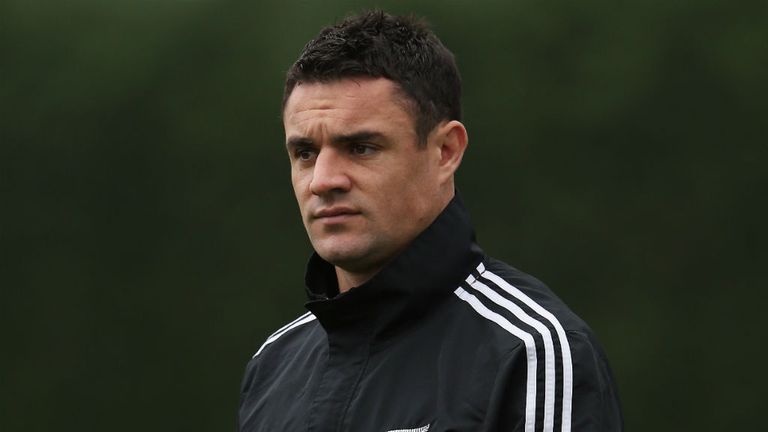 Sir Clive Woodward's side defeated the All Blacks 15-13 in Wellington nine years ago before going on to famously lift the World Cup.
And although they reached the final of the World Cup again in 2007, England are still generally lagging behind the southern hemisphere superpowers.
Carter, who expects to win a fitness battle in time to face England at Twickenham on Saturday, was breaking into the All Blacks side in 2003 and remembers the Wellington loss clearly.
"Yes I'm surprised England haven't done more since 2003. They've shown the strength of their side only in patches since then," he said.
"Maybe consistency is what's been lacking. They've got the players, so talent's not an issue. They can beat any side on their day.
"It was in 2003 that I got the All Black jersey for the first time, though unfortunately I didn't get the chance to get on.
Prime
"England were in their prime and had a pretty successful year. They taught us a lesson at home. We have real pride in not losing at home and they took it to us that night."
Defeat to the world champions at Twickenham on Saturday would complete a miserable autumn campaign for England, who have already lost to Australia and South Africa.
Since the loss in 2003 New Zealand have won all nine of their meetings with England and are unbeaten in all contest since August last year, with an 18-18 draw with Australia in October their only blemish since.
Carter added: "It's a very new squad so it doesn't feel like there's any less pressure playing for the All Blacks now that we've won a World Cup.
"It's more the fact of proving a lot of people wrong in some way or another. History has shown that teams that win the World Cup have pretty average seasons the following year.
"That's been a big focus for us this year. We want to be an even better and stronger side.
"The success that we've had this year has been great. There's a lot of self-belief in this squad and that's shown in the way we play.