New Zealand v England: Aaron Cruden impressed by the tourists during Test series
Last Updated: 19/06/14 12:29pm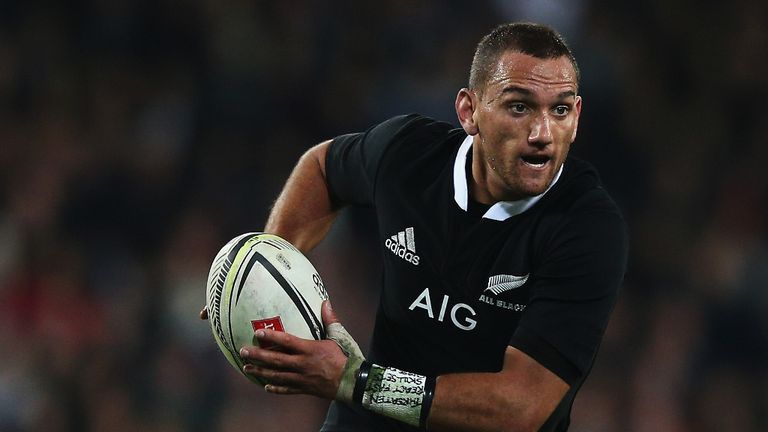 New Zealand fly-half Aaron Cruden believes England have "improved out of sight" over the past 18 months and feels the rise of their X Factor players will help them become a major threat to the All Blacks' hopes of retaining the World Cup next year.
The tourists may well have already lost the three-match Test series heading into this weekend's final clash in Hamilton but Stuart Lancaster's men have nevertheless earned widespread plaudits for their positive performances during two close encounters.
I'm not surprised at how close the series has been at all. Looking at the English, they play a really positive brand of rugby now and I think under Stuart Lancaster a lot of people have noticed that.
Aaron Cruden
Saturday's 28-27 defeat in Dunedin - in which England scored three tries - came a week after they slipped to an agonising 20-15 loss in Auckland thanks to Conrad Smith's 78th-minute try so another thrilling clash could be on the cards.
Cruden, who has stepped into Dan Carter's shoes during the talisman's six-month sabbatical from all rugby, insists New Zealand weren't guilty of complacency in the opening two Tests and fully anticipated a real battle.  
The 25-year-old told sportinglife.com: "I'm not surprised at how close the series has been at all. Looking at the English, they play a really positive brand of rugby now and I think under Stuart Lancaster a lot of people have noticed that. So for us we knew it was going to be a massive challenge and so it's proved. We expect nothing less this weekend.
"We knew England were going to pose massive threats across the board. They have some real X Factor players now and you only have to look at the big men across the back line like Manu Tuilagi to see that. With his ability to break tackles and get forward, we see him as a player we really need to nullify and cut out his opportunities.
"They also have a lot of hard-grafting forwards that seem to get some quick balls through to the backline and again, we must make sure we're aware of that to limit their opportunities."
Confident
Cruden accepts that New Zealand's performances in their first two Tests of the year were far from flawless but is confident the team are starting to hit their full stride again as they strive to equal the world record winning streak of 17 Tests this weekend.
He said: "We've been really happy with the results these past two games but we haven't been quite so happy with the way we've performed for the full 80 minutes so that's definitely going to be our focus as a team in Hamilton.
"Coming from our Super Rugby franchises into the All Blacks environment you're always going to take a bit longer to gel and I guess find your rhythm as a team. Last weekend we were better than we were a week before in Auckland but again we were still a bit patchy.
"We are trying to find that consistency in our game and find that balance when we're able to get into our structures and style of play as quickly as possible and maintain it for 80 minutes rather than 10 minutes here, 15 minutes there and going to sleep at times, which we felt we have done in the past two weeks.
"You're always hungry to win and perform to the best of your ability so we have to make sure our preparation is spot on and do everything right during the week so we can go out there and perform really well on Saturday night.
"We have to nail ever single process throughout the week and if we do then the result will take care of itself and give us another victory."
Although Cruden doesn't want to look too far ahead, the Chiefs star believes this series proves that England are on course to become one of the key contenders for glory at next year's World Cup on home soil.
He said: "It's going to be an interesting tournament for sure. You never want to look too far ahead and obviously our immediate focus is this weekend but you'd be naïve not to acknowledge there's a World Cup on the horizon.
"The way the English are going - especially in the last 18 months - they've improved out of sight with their style of play and the positivity they have so we are very aware of that. Obviously we play the likes of Australia, South Africa and Argentina a lot in our Rugby Championship and we know they will pose great threats as well.
"You've always got the French who seem to peak at the right times as well - so it's going to be a great tournament but we need to stay focused at the job at hand which is this weekend."
Aaron Cruden was speaking on behalf of AIG, the official insurance partner of New Zealand Rugby. Join the conversation @AIGRugby