Roux denies Bok 'hoax' claims
Jurie Roux has rubbished claims that the Springboks injury crisis is an elaborate hoax to aid their World Cup campaign.
Last Updated: 28/07/11 12:37pm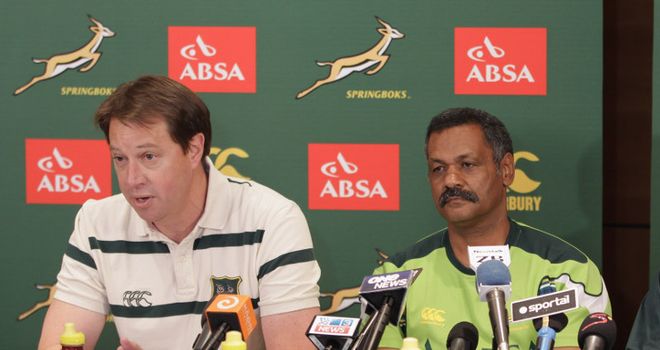 South African rugby boss Jurie Roux has rubbished claims that the Springboks much publicised injury crisis is nothing more than an elaborate hoax, designed to aid their World Cup campaign.
With 21 front-line players currently listed as 'injured', South Africa are touring Australasia with a vastly inexperienced side.
Nicknamed the Springboks-Lite, South Africa's second-string were soundly beaten by Australia in Sydney last weekend and have named an ever greener side to face the All Blacks in the Tri-Nations clash in Wellington on Saturday.
But reports emerging from South Africa this week revealed that the 21 players absent were all together at a training camp in Rustenburg.
The group, which includes Victor Matfield, Bakkies Botha, Fourie du Preez and Bryan Habana, is said to form the backbone of the squad tasked with winning a third World Cup.
The revelations have prompted furious cries of foul-play levelled at the Boks, who have been accused of holding a secret World Cup training camp.
Conspiracy
But, while Roux admitted they were indeed together, he vigorously denied claims that his star players were in fact fit and training in secret.
"I'm not denying they're in Rustenburg," he said. "I'm denying that they're at a secret training camp. I've got my players in a single high performance entity being rehabilitated, that's it.
"What do you do with an injured player? You don't send them off to Bali or Mauritius to have a holiday.
"You put them into a high performance centre, you put them with the best doctor you can find, and you put them on a programme to rehabilitate them to get to the World Cup. What more would you expect?"
"I don't understand the conspiracy, I don't understand the confusion. I run a multi-million-rand corporation where my biggest assets are my players.
"They're injured so I need to do something to get them ready for the World Cup, and get them in an environment."
Coach Peter de Villiers, meanwhile, described the depleted side that will face the All Blacks on Saturday as the best one available for the task.
"The team we will have on the park is the team we think is the best to do the job," he said.