Smit defends De Villiers
Springboks captain John Smit offered a strong defence of coach Peter de Villiers ahead of Saturday's Test against New Zealand.
Last Updated: 29/07/11 7:20am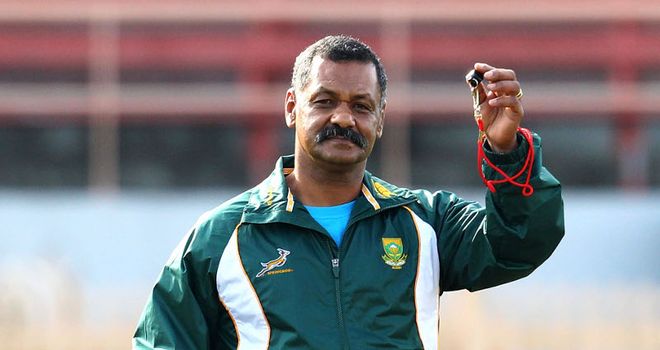 Springboks coach Peter de Villiers won a seal of approval from his captain John Smit ahead of Saturday's Tri-Nations Test against New Zealand in Wellington.
De Villiers has been the subject of much criticism around the rugby world, as much for his public comments as anything else, but Smit was assured in his defence of his coach in Wellington.
"We're in our fourth year with Peter. We haven't seen too many players running away just yet but the stories continue," he said.
"I think the perception is because he is different to what we had before. We needed a different coach to what we had before.
"When we started with Jake [White] he pretty much had to start from ground zero and turn us into something that had some idea of structure and how to play and what our strengths were. And that was drilled into us for a good three or four years leading into the 2007 World Cup."
Pressure
Smit added: "To be honest coaches in South Africa are always going to be under pressure, it's probably the one job I wouldn't wish on my worst enemy.
"It's frustrating for us as players to keep seeing Peter under pressure. He's very good to us and whenever we've needed something he's provided that and for me in the time we have had with him he has been the guy who has been able to coach us in the appropriate manner.
"I think another coach with a different type of personality would have made things go a little differently in terms of results in the last three or four years."