De Villiers: More to come
South Africa captain Jean de Villiers has warned England his side have plenty of room for improvement ahead of the second Test.
Last Updated: 15/06/12 4:08pm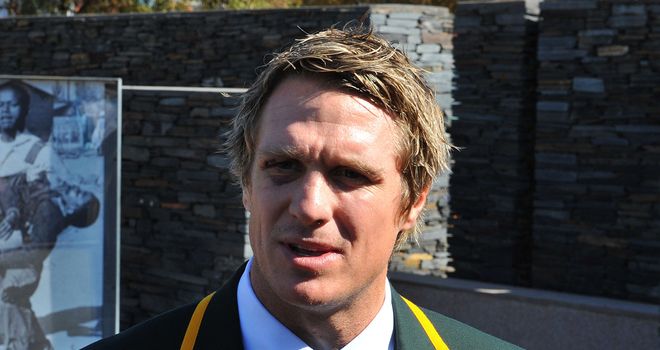 South Africa captain Jean de Villiers has warned England that his side have plenty of room for improvement.
The Springboks are hoping to wrap up victory in their Test series against Stuart Lancaster's men by following up last week's success in Durban with another win in Johannesburg this weekend.
South Africa went into the opening encounter rusty after spending less than a week in camp together with a number of new faces and a new coach in Heyneke Meyer.
De Villiers claims the Springboks were far from their best in the 22-17 win and expects a more fluid display in the next clash at Coca-Cola Park.
Butterflies
"The main thing for us is to improve," said De Villiers.
"Last week I think we were happy to just get away with a win because the butterflies were there - the guys were a little bit nervous, including myself and the coach.
"But now it is a week later and we have looked at the video and seen there is a lot to improve on.
"We weren't great on Saturday and we managed just to get the win.
"But we need to improve at the right time, we need to improve on our attack and even our set phases can improve a lot.
"It's all about improving and taking an upward step as a team.
"That is the main thing for us and hopefully, if we do that we get the right result."
De Villiers, handed the captaincy until the end of the series, scored one of his side's two tries last week.
The 31-year-old, who is poised to win his 74th cap, still bears the scars from the clash with a wound near his right eye.
History
South Africa are strong favourites ahead of the second Test with the altitude and their formidable record at the ground formerly known as Ellis Park also in their favour.
The Springboks have lost just three times at what is considered to be their spiritual home since winning the World Cup there in 1995.
De Villiers said: "The history of Ellis Park is fantastic. What we achieved there in 1995 and post that has been good for South African rugby, for the Springboks.
"Our record is good at Ellis Park.
"We are excited about the game but we need to go out and play good rugby. We are hoping to do that on Saturday."