Springboks coach Heyneke Meyer staying 'humble' ahead of Scottish showdown
South Africa coach Heyneke Meyer insists his team will "stay humble" despite their impressive win over Ireland.
Last Updated: 11/11/12 2:59pm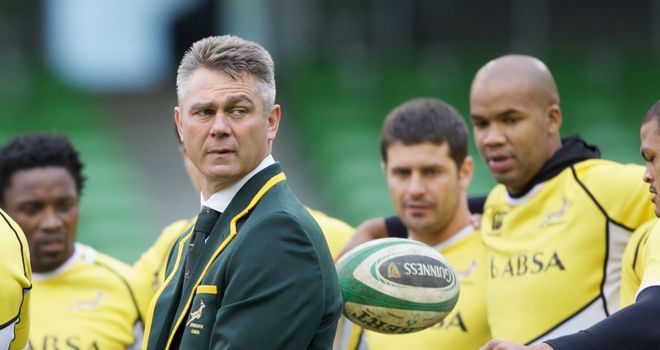 A second-half comeback enabled the injury-hit Springboks to score 16 unanswered points as they put their disappointing Rugby Championship campaign behind them.
Scotland are next, following by England on November 24 and Meyer says their Dublin victory will count for little at Murrayfield or Twickenham.
"We've been under the sword a few times year and we'll take a lot from our win against Ireland," he said.
"But we have to keep our feet on the ground and stay humble. There's still stuff to learn and Scotland are waiting for us.
"We'd like to stay unbeaten on this tour but Scotland are a great team so we won't be arrogant.
"There is a lot of confidence growing in this team. There's a great vibe. Losing to Ireland would have been a huge setback because I have so much faith in this team and what they do."
Meanwhile prop Tendai 'Beast' Mtawarira, who withdrew from the team on Saturday morning after suffering heart palpitations, has been released from hospital.