South Africa lose Francois Hougaard and Francois Louw for Scotland clash
Francois Hougaard and Francois Louw will miss South Africa's Test against Scotland in Nelspruit on Saturday.
Last Updated: 11/06/13 4:34pm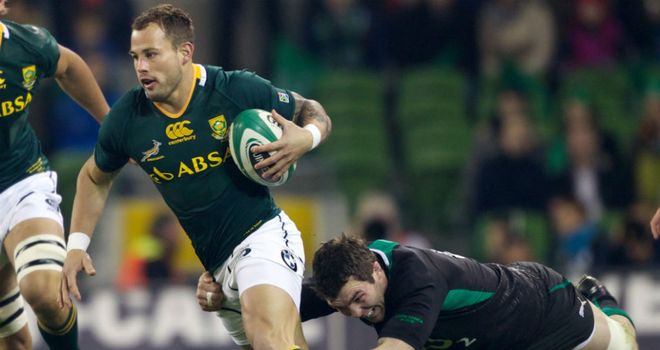 Hougaard aggravated an old knee injury in training on Monday, and has been replaced by Stormers No 9 Louis Schreuder, while Louw has reluctantly accepted leave to prepare for his wedding the following day.
Louw had been keen to face Scotland before what would have been a second successive big day but coach Heyneke Meyer insisted that he focus on his impending nuptials.
Hougaard's absence tests the Springboks' depth at scrum-half as they had called Cheetahs star Piet van Zyl into their squad 24 hours earlier with Jano Vermaak ruled out by injury.
Scans on Hougaard's knee, which he hurt playing in Super Rugby for the Bulls, showed swelling that will need time to go down and he could eventually be forced to undergo surgery.
"At this stage Francois doesn't require surgery but will be re-evaluated in two weeks' time to see if the injury has settled sufficiently for him to resume playing," said Springboks team doctor Craig Roberts.
Meyer added: "Losing two No 9s in such a short space of time is obviously a setback, but I've always rated Piet van Zyl and Louis Schreuder as two of the best young scrumhalves in South Africa.
"Piet's attitude has been fantastic since he joined us on Sunday and he's worked hard on the training field and off it, making sure he gets to know and understand our plays as quickly as possible. He's been playing great rugby for the Toyota Cheetahs and I have a lot of confidence in him.
"Although Louis has not officially been part of our set-up yet, he has helped out at two of our training camps in Cape Town before, so coming into the squad will not be all new to him."
Meyer will name his team to face the Scots on Wednesday.