Rugby Championship: South Africa coach Heyneke Meyer has easy task motivating players
South Africa coach Heyneke Meyer had an easy task motivating his players ahead of the 73-13 demolition of Argentina.
Last Updated: 17/08/13 10:15pm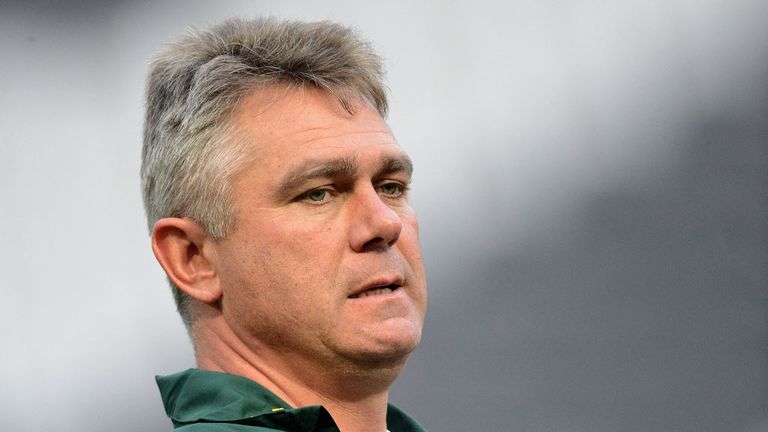 Saturday was decreed Nelson Mandela Sports & Culture day and the Springboks did not disappoint in front of a crowd of 53,000 at the FNB Stadium in Soweto.
The match followed a football international between South Africa and Burkina Faso, a factor which gave extra impetus to Meyer and his players.
"The team talk was simple," he said. "I really wanted a special performance; one to make Madiba (Mandela) and our country proud.
"The outstanding thing for me was that it was a clinical performance.
"There were a lot of soccer fans out there today and I really wanted to show them what rugby is about and to make our nation proud.
"I said to the guys 'let's go out and show them what we can do'."
South Africa ran in nine tries on their way to victory but centre Jean de Villiers insists they must improve for the return match in South America next weekend.
"We didn't use all our opportunities and there are definitely things we can work on," he said.
In perspective
"The score was good but you have to put it in perspective. There was one intercept and two yellow cards and it will be a different game in a week's time.
"Days like this don't come around that often and we'll enjoy the moment but we need to start all over again on Monday.
"The Madiba magic worked for us again today. It was a special occasion and we could enjoy it out there."
Meanwhile, Argentina coach Santiago Phelan admitted they were frustrated to lose by such a large margin.
"We are very disappointed," he said. "First half we didn't take control of the ball, we were under pressure everywhere. In the second half we were broken."