Autumn Internationals: Scott Johnson reflects on Scotland's heavy defeat to South Africa
Johnson admits Scotland were beaten by South Africa as a result of their own mistakes and the Springboks' ruthlessness.
Last Updated: 17/11/13 8:53pm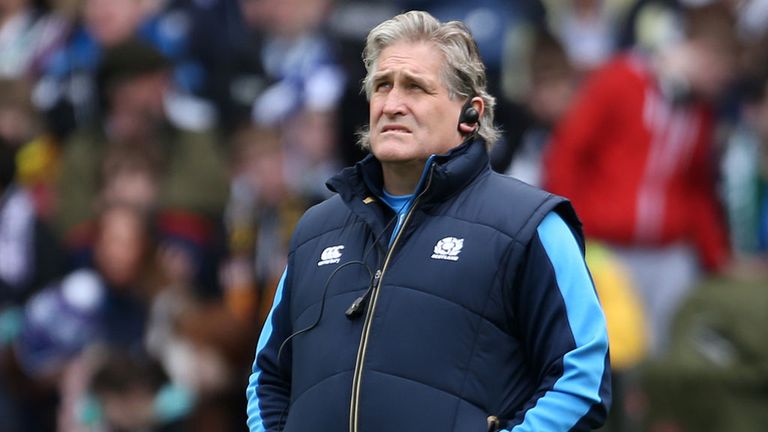 The Dark Blues shipped three tries in a shocking first 40 minutes before rallying somewhat after the break on their way to a 28-0 defeat.
Johnson said: "They were a pretty good side that took every one of their chances. I said to them at half-time that we have dug a pretty big hole here, let's not keep digging.
"And we didn't keep digging. We filled in a bit. But we were punished for our mistakes every time we got it wrong in the first half. They were very, very clinical.
"The maul for the first try was wonderfully set up and then we turned over the ball and they ran 60 metres to score the second.
"For the third, they scored a great try off a missed tackle straight from the kick-off. That was great skill. But there was plenty of 'us' in that too."
Where the South Africans were clinical at the set-piece, Scotland managed to gift possession from five out of their first six line-outs in the opening 20 minutes.
"There was a couple off issues with the line-out at the start of the game," admitted Johnson.
"It put us under a heap of pressure that they eventually scored points off of but we accept that. But as a coach you have to look at how people bounce back.
"Out of that situation, we started to get ourselves out of a jam eventually and we found out a bit about a few people today."
Positives
And the Australian boss was keen to focus on the few positives ahead of next Saturday's meeting with Australia.
"I thought that the defence held - it was resolute," he said. "That sounds funny when you have let in four tries but the amount of possession they had, that game could have gone further down the path.
"Yeah they scored readily in the first half but they didn't score after that. So it highlights the fact that most of the issues are ours and ours alone. They are the ones we have to fix."
South Africa are due to face the Scots in the pool stage of the 2015 World Cup when it is staged south of the border.
And their head coach Heyneke Meyer was adamant the exercise was still useful, despite the overwhelming margin of victory.
He said: "Listen, you always know what to expect from Scotland. They're very physical, they kept on going. We had to work hard to stop their drives. They're very physical, very good at the breakdown.
"But it's more of a question of focusing on our game. I really thought we made a big step up, especially in these conditions.
"The rain in the second half was a wee bit more difficult, but we need to play in these conditions - the World Cup is going to be in similar conditions. But they're still a quality side."
The Springboks have called Toulouse scrum-half Jano Vermaak into their squad ahead of next weekend's Test against France as a replacement for Fourie du Preez who became a father shortly before the squad left South Africa.