International Rugby Board pays tribute to Nelson Mandela
The International Rugby Board has paid tribute to Nelson Mandela, who passed away on Thursday.
Last Updated: 06/12/13 9:06am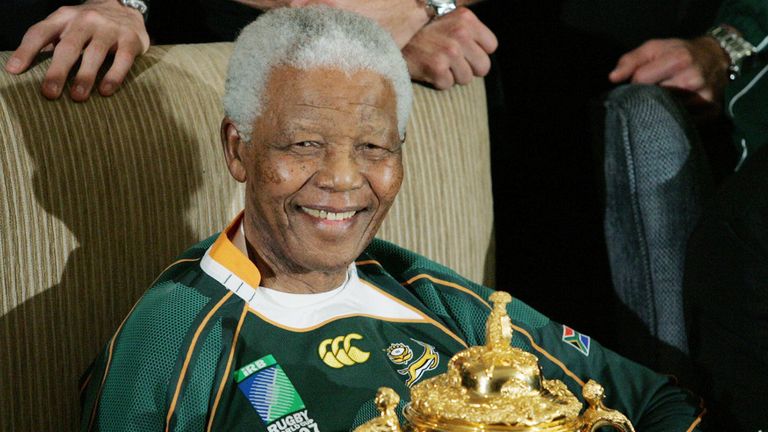 The inspirational former South African leader changed the face of rugby in South Africa, using the opportunity of hosting the Rugby World Cup in 1995 to project the sport's character-building values to unite a nation.
IRB chairman Bernard Lapasset said: "Mr Mandela was a truly remarkable man. I was honoured to be with him during the historic days of Rugby World Cup 1995 and saw his incredible impact on his nation and his people. His wisdom, intelligence and sheer presence was a wonder to behold.
"I am so proud that the rugby family could play its small part in supporting Mr Mandela's efforts to establish the new South Africa and that our tournament came to symbolise the emergence of a new nation. He changed the world and we were privileged to witness and embrace his work.
"Our thoughts are with Mr Mandela's family, the South African Rugby Union and the people of South Africa at this time of mourning."
IRB vice-chairman and South African Rugby Union president Oregan Hoskins said: "The South African Rugby Union shares in our nation's sadness. Madiba was a great man of vision, determination and integrity who performed a miracle that amazed the world as much as it amazed his own fellow countrymen.
"His name will rank among that of the greatest liberators and humanitarians for as long as mankind walks the earth. It was our privilege to have lived in this country during his lifetime."
South African Rugby also tweeted: "Rest in Peace Nelson Mandela. We will never forget the role you played in our country, in our sport, and for that we are eternally grateful."