Warburton: Blues were right
Cardiff Blues and Wales flanker Sam Warburton has come out in support of the club's decision to sack Gavin Henson.
Last Updated: 04/04/12 8:03am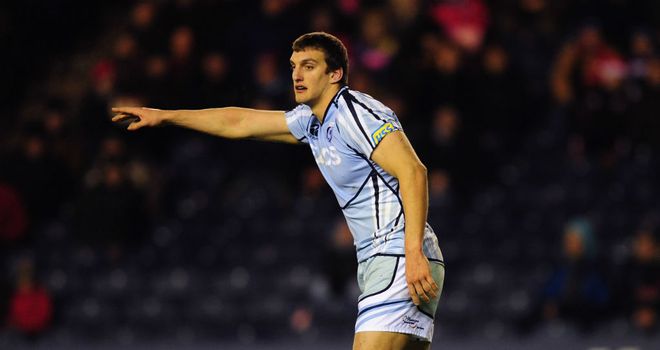 Cardiff Blues and Wales flanker Sam Warburton has come out in support of the club's decision to sack Gavin Henson.
The Blues terminated Henson's contract with immediate effect on Monday after an incident during the side's return flight to Cardiff following their 31-3 defeat in Glasgow on Friday night.
The move has been met with criticism from within the club and by outside observers.
Former Ospreys coach Lyn Jones suggested that the blame for the incident should not be shouldered by Henson.
"They have to be looking at who was running that trip to Glasgow, they've got to be looking at the team manager. Why was he drinking in the morning? Why didn't they stamp that out?,"Jones told the BBC.
"Henson's not innocent - he's made a mistake, like every other player. Like Danny Care, but has he been sacked by Quins? There are several hundred examples like this.
"It took a drugs scandal in Bath to get rid of some players. For Gavin to be hung out to dry like this is inexcusable."
Sacrifice
However, Warburton believes that the club made the only choice that was really available to them given the parameters that they had laid out regarding player behaviour.
"Players may laugh when someone calls them a role model, but that is what they are," Warburton told Wales Online.
"Because most players are grounded, and don't get ahead of themselves, some still think that they can behave as their friends might down the local pub.
"But you can't. I don't think it's a case of players being arrogant when they misbehave, it's more a case that they actually forget that they are under the microscope. The small sacrifices like behaving yourself on a night out, or wherever you may be, is really a very small sacrifice.
"For me, winning a Grand Slam, something hardly anyone will experience, is priceless compared to having to sacrifice a bit of alcohol once in a blue moon. So I just think, why bother? Gavin has now left the Blues, and the Blues could still potentially win the Heineken Cup.
"It might not be a massive chance, but it is a chance all the same - and now he could miss out on that because of misbehaviour. You have to take a step back and realise what opportunities you have as a rugby player and not let them slip from your grasp because of stepping out of line."
Classy
The Wales skipper admits that Henson's departure comes as a loss to the club due to what he offers on the field and expressed a hope that the Grand Slam winner would continue playing rugby.
"When he has the ball he is just such a classy player, an incredible talent. So it is disappointing to see him go, and I'm not sure what will happen with him now.
"He seemed to be just getting things back on track. He had settled in really well at the Blues, he got on well with everyone and all the players liked him. That was never an issue. But you can't blame the Blues because they have warned us before that any misbehaviour and there would be serious consequences.
"They have backed that up with the decision on Gavin and so now everybody knows now that they can't step out of line. I've never spoken to him about any further than this season, he always seemed pretty focused on getting back to playing rugby with the Blues.
"It's anybody's guess what will happen now. I hope from a rugby perspective that he does get playing again."