Heineken Cup Pool 2: Al Kellock disappointined Exeter claimed a late losing point
Al Kellock has expressed his disappointment that Glasgow allowed Exeter to earn a late losing point in Sunday's win.
Last Updated: 20/10/13 6:33pm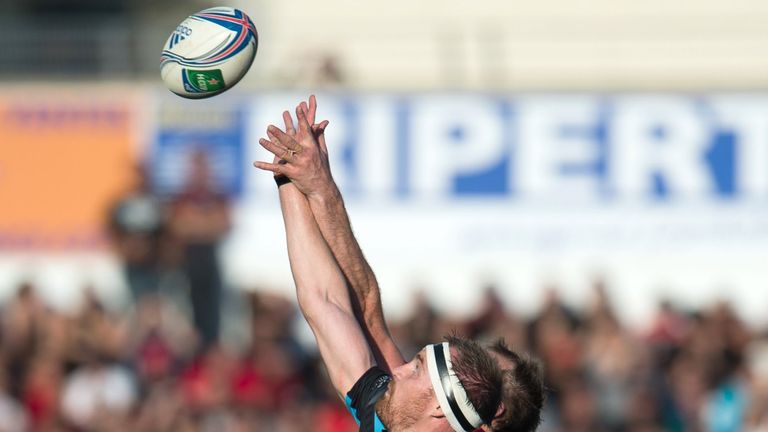 Second half tries from Tim Swinson and Tyrone Homes set up the win, but Dave Ewers' late scrambled effort for the Aviva Premiership side means Exeter claimed an extra point for losing by less than a converted try.
Exeter joined Toulon at the top of Pool 2 with six points while Glasgow - who currently top the RaboDirect Pro12 with five wins out of five - sit level with Cardiff on five points.
"It's a great win but we're disappointed to have slipped up at the end and hand them a bonus point. However, it doesn't have to come back and haunt us," said Kellock.
"It's about us and making sure we are in the fight. It's about coming out of the back-to-back games against Cardiff in a good position.
"The number one task for us was to get the win today. The fact they got the bonus point is a slight frustration but no more because it's still all about what we do.
"It was tough out there because of the rain and that made it really difficult to play in. But I thought the way we controlled the game in the second half was outstanding."
Errors
Exeter head coach Rob Baxter admitted his side were undone by errors on their own part, but insisted they are still in good shape to challenge reigning champions Toulon for the sole slot granting automatic entry to the last eight.
Baxter remarked: "Glasgow just controlled the ball a lit bit better at a couple of crucial times. We made a couple of errors under some high kicks and there you go, in a tight game it can be decided in one or two moments.
"I'm very pleased that we fought back in the end when the momentum of the game had got away from us.
"So to fight back and get a losing bonus point which keeps us level top of the group is great and gives us all to play for.
"I've just told our guys to look at the bigger picture. We're in a group with the European champions and have just come away from home to the leaders of the RaboDirect and we're hanging in there at the top.
"The important thing for us is to bounce through and understand that this was a very valuable point for us."