Ulster coach Mark Anscombe celebrates Heineken Cup qualification after beating Glasgow
Ulster coach Mark Anscombe was in celebratory mood after his side made the knockout stages of the Heineken Cup
Last Updated: 12/01/13 8:49am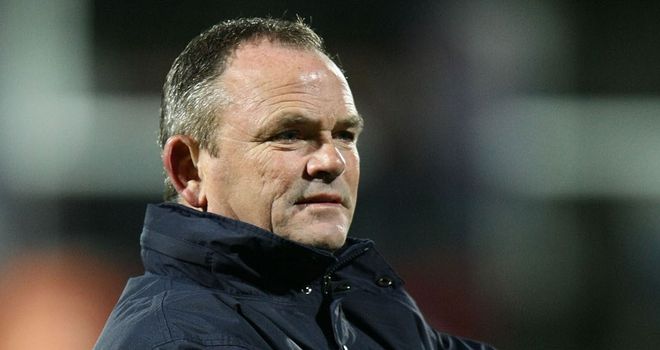 It was a valiant display in shocking conditions and a first-ever win on French soil against Castres next Saturday will ensure they finish top of Pool Four and have a home quarter-final tie.
"There was a job to do against Glasgow and we did it," said Anscombe whose team cruised through thanks to tries from Nick Williams, Jared Payne and Darren Cave.
"I'll certainly take a 23-6 victory and credit to the guys they hung in there and I thought they finished the stronger and scored a couple of tries.
"It's also credit to the guys that they've achieved this and that's one thing that we can put down that we've qualified after the fifth round of matches for the quarters."
Anscombe admitted he was fully fired up ahead of facing a Castres side who have won three of their five games in the group, but can't qualify for the knockout rounds.
"We set out as a goal this year to make a Heineken quarter-final," he added.
"But we're certainly not resting on it and we're going to Castres next week with a job to do and a purpose to what we want to get out of that game and reward our fans with a home quarter-final.
"I think if we don't do that we'll have let the supporters down a little bit. We know where our work's going to be next week if we don't front up there."
Ulster skipper Chris Henry agreed and made another victory the essential focus
for the squad.
"I think the players know what's at stake now to make a home quarter-final," he said. "We've given ourselves an opportunity and now winning in France is our goal. It's a massive focus for us."