Leinster coach Joe Schmidt hopeful Jonny Sexton will stay in Ireland
Leinster coach Joe Schmidt is hoping fly-half Jonny Sexton signs a new contract in the next week.
Last Updated: 21/01/13 12:12pm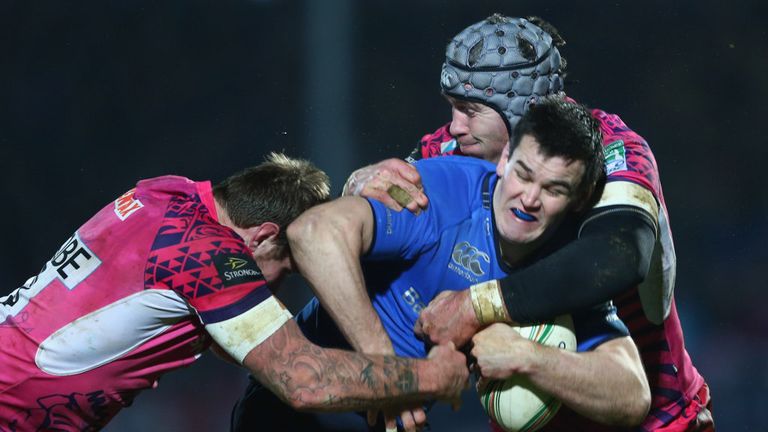 Sexton is being courted by the French Top 14, with Racing Metro reportedly leading the chase for the Ireland star.
But the Irish RFU are negotiating with Sexton about a new three-year contract with Leinster, and Schmidt hopes his No 10 puts pen to paper before the Six Nations.
"It would be great for Jonny if it got sorted out in the next week," Schmidt said.
"I just don't think he needs it heading into the Six Nations. I really hope that one way or the other - one way, to be honest - it is sorted. Hopefully it'll play out in the next week or so.
"It's an IRFU issue and I've got to say they're doing their darnedest to wind it up.
Skilful
"We'd love to hold on to him and Ireland would love him to stay in the country as well but I also know Jonny's in demand.
"There will always be big offers for quality players like him. He works very hard, he's skilful and he runs a good game - he is a super player and a super kid."
Racing coach Gonzalo Quesada, who insists he is not involved in the Sexton chase, believes the fly-half will stay at Leinster because of Schmidt.
"I wasn't consulted about any offer or move," he said. "It happened behind my back. I read about the story in the newspapers.
"Joe is the best coach in Europe and Leinster is a big club. If I were Jonny and had the chance to continue to work with Joe, playing for Leinster and Ireland, I know which I would choose.
"There's not enough money on offer that would convince me that I would do better away from Joe, and I believe that will be the case with Jonny too. I expect Jonny to be a Leinster player next season."