Henson relishing Cardiff chance
Gavin Henson is ready to prove himself all over again when he returns to action with Cardiff Blues.
Last Updated: 27/10/11 7:41pm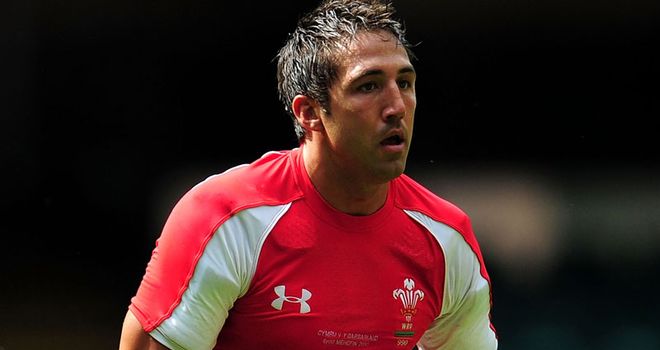 Gavin Henson insists his hunger for rugby is "bigger than ever" as he embarks on the latest chapter of an often controversial career with Cardiff Blues.
The 29-year-old Wales international, who is still recovering from the wrist injury which wrecked his World Cup hopes, has joined the region on an eight-month contract after being let go by French outfit Toulon at the end of last season.
Henson, who only returned to action last December after a self-imposed exile of 19 months, has become better known for his appearances in reality television shows such as 71 Degrees North, Strictly Come Dancing and The Bachelor than his rugby abilities, but he claims he has regained his appetite to succeed on the pitch.
He said: "My hunger is bigger than ever. That's exciting for me, I didn't have those feelings until I took that time out. Running out for games and not feeling anything wasn't nice. But those feelings have come back and the love for the game is there.
Confidence
"I want to prove to myself that I can play week-in week-out rugby. I haven't done that for some long and had those doubts. There's a lot of people I want to prove myself to.
"I do have a high opinion of myself as a rugby player and I think all sports people have to have that confidence. For me it's trying to play weekly."
Henson, who said he is ready to play at fly-half or centre, will face some stiff competition just to secure a place at the Blues.
Scotland international Dan Parks and former Wales international Ceri Sweeney are the incumbent number 10s, while Jamie Roberts will be first choice inside centre following his excellent World Cup displays.
Henson, who has won just 33 caps since making his debut over a decade ago, acknowledges he faces a tough task, but hopes to link up with Roberts in the centre, paying a glowing tribute to the impressive three-quarter.
"He's been incredible and is definitely the best 12 in world rugby," said Henson.
"Any international team would start him at 12, he's been unbelievable and to have the chance to maybe play alongside him will be awesome.
"I've been so impressed with him ever since he came on the scene. It will be interesting. We've played together a couple of times and there have been glimpses that we could complement each other. To work with him now on a daily basis is pretty exciting.
"We interchanged at 12 and 13 against England. It could definitely work but there's a lot for me to do yet."
Henson estimates he is around four weeks away from being available for selection as he continues to recover from the dislocation he picked up in Wales' World Cup warm-up victory over England.
And while he admits he was devastated to miss out on going to New Zealand, the 2005 Lions tourist is not giving up hope of again pulling on the red shirt.
"The injury was crushing and tough for me to take because I missed out on the World Cup again," he said.
Unfair
"I nearly snuck in there but watching the boys in the World Cup, they had been working hard for two years and it would've been unfair for me to sneak in at the last moment and be a part of that World Cup.
"It was probably best that I missed out on that one. That was the best Wales team I've ever been involved with and that definitely makes me want to be involved more than ever. I've got my work cut out but I'll try my best to get in there."
Henson had played all of his regional rugby with the Ospreys, prior to his departure for short spells with Saracens and Toulon, but is now set to face them while playing for one of their main rivals.
Henson admitted the Liberty Stadium side had been his first choice in terms of returning to Wales, but is grateful for the chance the Blues had afforded him, and hopes to end his career with his new employers.
"Ideally, coming back to Wales I wanted to go back to the Ospreys," he said. "I spent 10 years of my career there and they are my club.
"It's disappointing that it didn't work out but I'm so grateful that the Blues have given me this opportunity and I have to repay them on the pitch. I want this to be my last club."