Pro12: Matthew Rees to make Cardiff Blues comeback against Ulster
Matthew Rees will make his comeback for Cardiff Blues in Saturday's Pro12 clash with Ulster at the Arms Park.
Last Updated: 26/03/14 3:01pm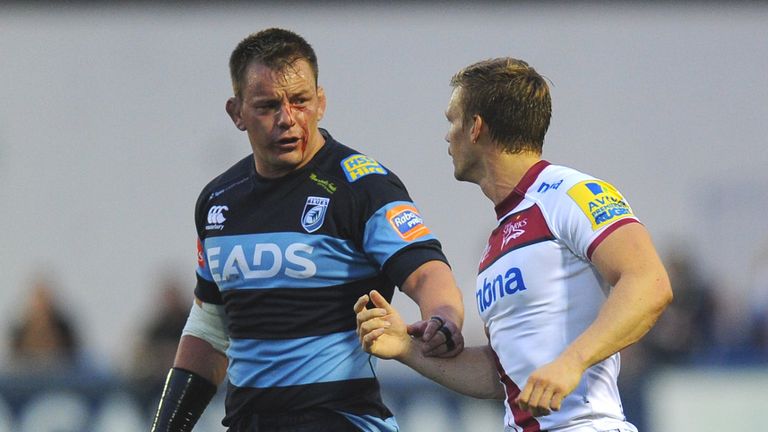 The former Wales hooker has spent five months away from the game as he underwent treatment for testicular cancer.
Rees got the all-clear to resume training last month and Blues coach Dale McIntosh has hailed the "inspirational" news that he will make his playing return against Ulster.
"It's phenomenal news," said McIntosh. "What can you say about the guy; he's an inspiration to us all.
"I have played with him and he is a fine rugby player. He is also a tremendous friend and person. The boys are inspired by him.
"We have missed him, both off the field and on the pitch. He has come back in and called a spade a spade. He has really intensified training because of his attitude and just given the boys a huge, huge lift.
"They look at him and think about what this guy has gone through. It is unbelievable and we have got no right to complain or be half-hearted in anything we do."
Asked if he expected to see Rees return to action before the end of the season, McIntosh added: "Truthfully, yes I did expect him to. I have known him a long time and he's absolutely hard and ruthless.
"It's alien to us all what he has gone through. It doesn't happen often. It's not a sprained ankle and it's not a popped collar bone.
"It's a bad, bad illness that not many people recover from, let alone go on to play rugby at the very highest level.
"But yes, I did expect to be back because he's a tough old unit and a very motivated person.
"We have lost talismanic men in guys like Sam Warburton and Leigh Halfpenny, who are two icons in what they do.
"So it's great to have Matthew coming back into the environment, being strong both on and off the pitch."