Pro12: Ospreys centre Andrew Bishop returns to full training following back surgery
Andrew Bishop has boosted Ospreys' Pro12 play-off hopes by returning to full training following back surgery.
Last Updated: 04/04/14 3:00pm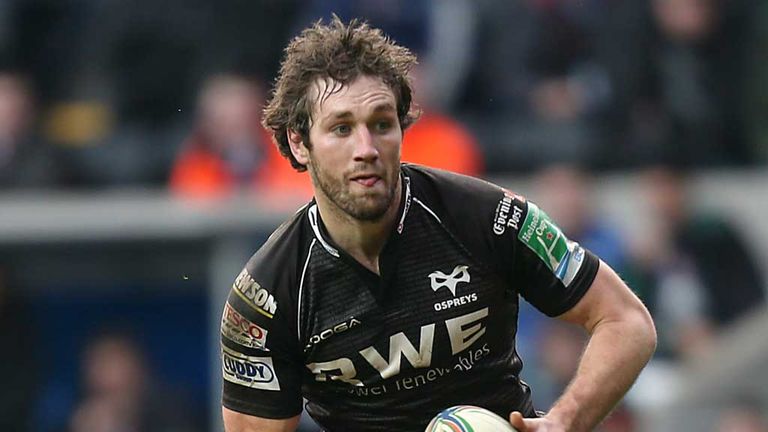 The 28-year-old centre has been sidelined for four months after going under the knife to resolve the same long-standing problem that saw him miss the final four months of last season.
Bishop stepped up his involvement in training over the last few weeks and looks set to feature in the Ospreys' four remaining league games as they attempt to clinch a play-off spot.
"I'm pretty excited about coming back and hopefully wearing the jersey again soon," said Bishop.
"We are still looking to push for a top-four slot so there's everything still to play for. We want to get to the semi-final and then anything can happen.
"If I can help, if I can support the push in any way between now and the end of the season, I will.
"It's been pretty frustrating, that's fair to say. Doing the same thing again after doing it last year then getting back to full fitness is a bit of a disaster.
"It was disappointing, but I realise I've been pretty fortunate throughout my career injury wise so I've just had to take it on the chin, knuckle down, and hopefully this is the end of it."
The second most capped Osprey of all time, Bishop looks set to break the 200-game barrier before the end of the season.
"All the time I've been out I've had that 200 game mark in the back of my mind," he said. "I'm on 197 now and it would make me really proud to get to 200.
"People probably know that I'm not the biggest talker and I'll never be someone to lead that way.
"I like to just get out on the pitch and do my job, to work as hard as I can and hopefully lead other people that way."