Will Greenwood says that Toulon are a different proposition when they play at Stade Félix Mayol
Will Greenwood says that Toulon are a different proposition when they play at Stade Felix Mayol.
Last Updated: 18/01/14 7:08pm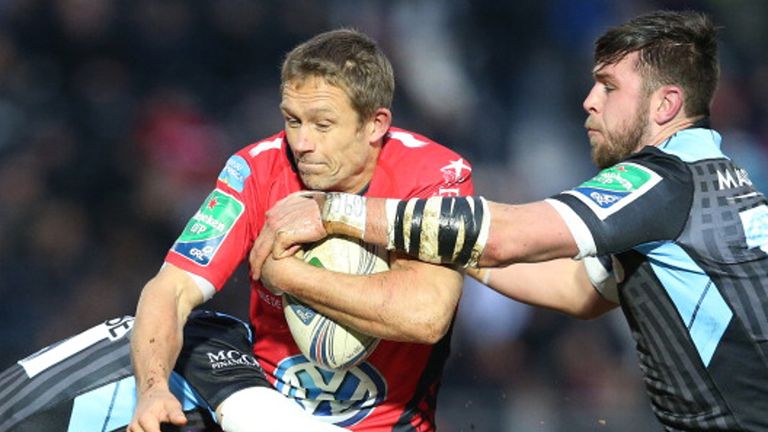 The game was almost postponed due to the waterlogged pitch at Scotstoun Stadium, however the game went ahead and Toulon secured themselves a home Heineken Cup quarter-final with their 15-8 win.
They were forced to withstand a ferocious last few minutes as Glasgow pressed hard for the converted try which would have earned them a draw.
Click here for our match report
However the defending champions produced a superb defensive display and the French club took the spoils.
Toulon's win was built on their enormous pack who buried Glasgow at every opportunity and Jonny Wilkinson kicked the five penalties that resulted from the set-piece.
"Toulon had the ability to return to their scrum and pick up three points. However you cannot underestimate the importance of them digging in right at the end there and denying Glasgow," said Greenwood.
"If Glasgow snatched a draw it becomes two points apiece which meant that Toulon may very well have been on the road in the play-offs.
"At home this season Toulon have played three and won three and had bonus points in every single one; they are a completely different side in terms of their outlook at home compared to away where they try and bully and bludgeon their way to victory.
"At home they play. With the sun on their back they have the ability to throw the ball around a little bit. Jonny Wilkinson stands a lot flatter and Matt Giteau comes more into the game. We see finishes like David Smith and Delon Armitage coming into the line more.
"If you look at the conditions their away games have been played in there is a fair argument to say they could not play and why would they play as the conditions have been terrible? But we know back in France they have the newspapers ready for the bonus point and they are ready to go."
Experience the key
No team has managed to retain the Heineken Cup title but Tyrone Howe believes Toulon have the players to do that.
He said: "The one thing that Toulon have got that gives them a real chance to do it, is experience. You look at that pack, you look at the likes of Giteau and Wilkinson - they have players who have won World Cups; they know how to add a little bit to their performances when it absolutely counts.
"When you put that collective experience together and throw in a sprinkle of magic; a sprinkle of pace and a sprinkle of skill well then you have a potent cocktail that gives you a chance when it counts.
"I don't think we have learnt anything more about them from this game. They have just managed to get through this pool very well.
"It has not been the most testing of pools for them so it has been an easy passage for them as well but the key thing for them is a home quarter-final as they will back themselves there. Then it depends on the draw for the semi-final. Toulon are in good shape though."