Will Greenwood agrees with Dan Carter that England are serious World Cup contenders
Will Greenwood wants England to lay down a World Cup 2015 marker on their tour to New Zealand.
Last Updated: 18/04/14 7:58am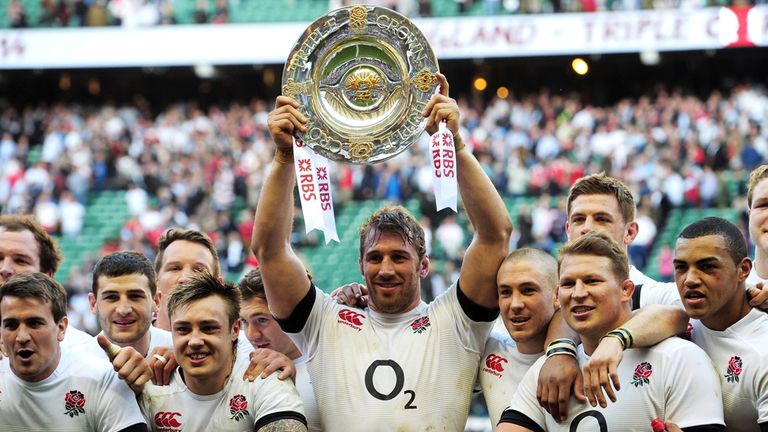 All Blacks fly-half Dan Carter has been impressed with how Stuart Lancaster has transformed his team and says that New Zealand will have to be at their best when England tour in June for a three Test series.
Carter, who will be out until the autumn recovering from an Achilles injury, also believes that England, as hosts of the 2015 World Cup, will definitely be a team to look out for.
Will Greenwood, who helped England win the 2003 World Cup is in total agreement: "I think it is a pretty sound statement from Dan Carter," said Greenwood on Sky Sports News.
"Historically the home side who are putting on the tournament do pretty well - very rarely does a host side do badly.
"The run that Stuart Lancaster's side are beginning to put together at Twickenham makes them a very formidable side. They have some wonderful opportunities now - a three test tour to New Zealand in June. Then in the autumn the big three come over to Twickenham - New Zealand, South Africa and Australia. Throw in Samoa and you have four games in 21 days which could replicate the last games of the 2015 pool stages then the quarters, semis and final. The World Cup will not be as difficult as the November that they are going to have.That means that there will be nothing in the World Cup in 2015 that will surprise them.
"England are a gutsy and stubborn side and at times they are a nasty side. I don't mean that in an illegal fashion, I just mean that they are a horrible side to play against as they are in your face and they are closing down your space. They give you nothing.
"I think it will be a very wise man to consider having a couple of pounds on England for the World Cup next year."
Ultimate challenge
Before England can start to consider their chance in 2015 they have a tough test series in New Zealand and Greenwood says it is vital that England make a statement on that tour.
"It is crucial. In 2003 we went to Wellington and then to Melbourne six months before the World Cup. Everyone told Sir Clive Woodward to rest his players - don't take Jonny [Wilkinson] anywhere near the southern hemisphere. Leave Martin Johnson at home; Lawrence Dallaglio is too important to risk six months out from a World Cup. Woodward flipped that all on its head and took his strongest side out.
"For Lancaster it will be 18 months out so not quite as crucial to consider the health and safety of these England lads but go to New Zealand and test yourself against the best team in the world.
"The South African's might argue but this is the ultimate challenge. When I am wise and old and grey and my grandkids are hopefully asking me what was the moment that I remember. Well it was not the World Cup in 2003. It was winning in NZ.
"The All Blacks, the haka, the silver fern. There is just so much history - they give you nothing and they only respect you if you compete with them or if you beat them. Until then you are just an Englishman who is half-decent at rugby. This is a great way for this young side to take their next step in their development."