Sir Ian McGeechan has backed former Wales captain Sam Warburton to lead the Lions in New Zealand in June.
McGeechan, who coached the Lions in 1993 and performed a midweek coaching role in 2005 during the last two tours to New Zealand, said the current crop of players is the strongest the Lions have had at their disposal for "a number of decades".
Warren Gatland will reveal his captain when he announces his squad on April 19, but has said the skipper will have to earn his place in the Test team like any other player. While the former Scotland international agrees with the concept, he believes the tour needs a constant focal point of leadership, and backed Warburton for the role.
"I've always believed that your captain has to be at the sharp end of everything you're doing," said McGeechan. "I know Warren has talked about a tour captain, and quite rightly that the captain has to deserve his place in the Test team.
"But I think you can see there are some that always put themselves forward in that respect.
"The one who's put his hand up again is Sam Warburton. I think he's played exceptionally well.
"He learned a lot from Paul O'Connell and Brian O'Driscoll in 2013, captained the group - he knows what it's all about and he's going with that Lions experience which I think is very important."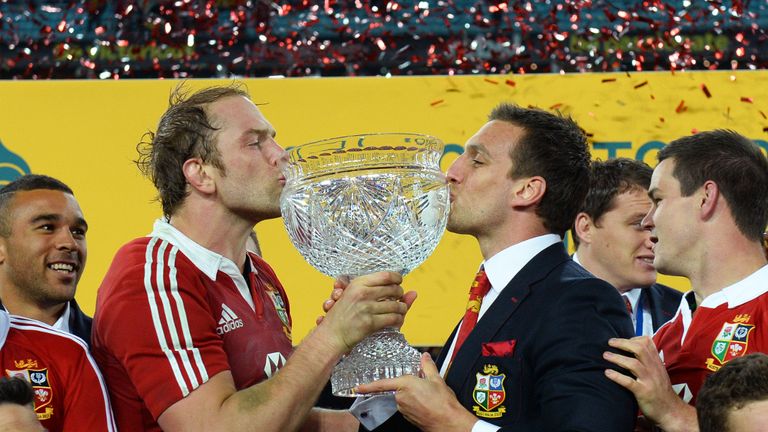 The 70-year-old believes the Six Nations showed that Gatland has the right kind of selection headaches ahead of the 10-match tour of the home of the world champions.
"I think we've probably got the strongest group of players on selection for the Lions that we've had for a few years - a number of decades I would say almost - going to New Zealand."
"I think the Lions will be very competitive coming into that first Test - win that one and it's all on."
Click on the video to watch the full interview with Sir Ian McGeechan