Gatland backed for Lions job
Gethin Jenkins has added his voice to the calls for Warren Gatland to take charge of the British and Irish Lions next year.
Last Updated: 14/03/12 5:55am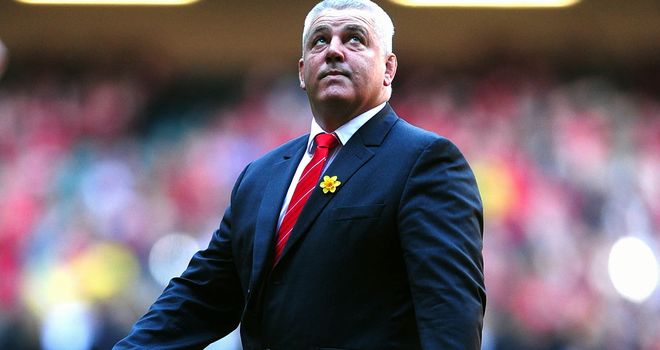 Gethin Jenkins has added his voice to the calls for Warren Gatland to take charge of the British and Irish Lions in Australia next year.
Wales boss Gatland is the red-hot favourite to get the job, with Lions officials set to reveal the identity of the new coach next month after the dust has settled on this season's RBS Six Nations.
Gatland, 48, was a key member of Sir Ian McGeechan's coaching team in South Africa three years ago, when the Lions and Springboks staged an unforgettable Test series that the tourists ultimately lost 2-1.
And Wales prop Jenkins, a Test Lion on the last two tours, believes his current national boss has the right credentials to do the top job.
Old school
"I think it would be great if he gets it," Jenkins said.
"He did a great job on the last tour. He is a great coach and he has got the credentials for it.
"It was pretty old school on the last tour. We had some good enjoyment, but it was very serious at the same time."
Wales will win the Six Nations title and Grand Slam if they beat France on Saturday, which would be the second time for Gatland to achieve such a feat following his debut season success in 2008.
Jenkins, who captained Wales to their latest victory over Italy, underlined the New Zealander's immense contribution, with the current campaign following on from a World Cup semi-final appearance last autumn.
"There is a real strong group of people behind Warren - the set-up is really good and he has got everything in place," Jenkins said.
"I wouldn't say that training is over-complicated, but everyone knows their role and everyone knows the system.
"He gives the players confidence to go out there and perform, and he is also a very good man-manager.
"I wouldn't say there are many players he doesn't get on with at all, and he is always around in the environment speaking to players.
"He doesn't hide from things. If something needs to be said, he will say it, and I think the players know that."
External hype
Jenkins played key roles when Wales won the Grand Slam in 2005 and 2008 - prop Adam Jones and back-row forward Ryan Jones are also chasing a hat-trick - and he admits this week will be a case of trying to block out external hype.
"There is massive expectation on us this week," he said. "It has been a tough campaign, but everything we've put in leads up to winning this game on Saturday.
"The training is not going to be much different, it will be intense and geared to Saturday. The main thing is blocking out anything in the exterior.
"It is going to be talked up all week, everyone knows that. It's a big chance for us to make history, and we are really looking forward to it.
"Twice I have been involved in previous Grand Slams, and the week has just flown by. It is not until a couple of months afterwards that you realise how big a deal it was and how much was actually on the game.
"The week takes care of itself. You are worried about your own job and making sure on the day you perform.
"They are six days you have got to savour. It's a short turnaround, so we have really got to get ourselves mentally and physically ready."