Lions live on Sky
Sky Sports has won the exclusive live rights to the British & Irish Lions 2013 tour to Australia.
Last Updated: 04/09/12 1:55pm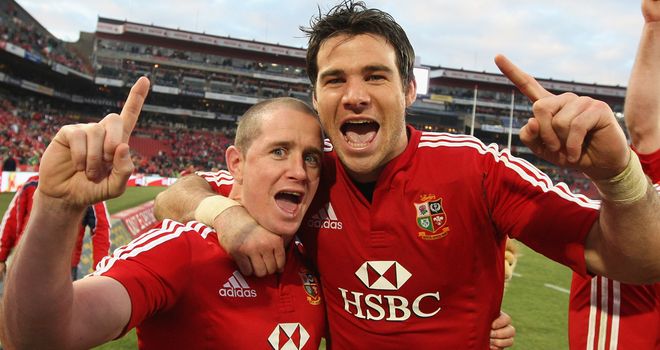 Sky Sports has won the exclusive live rights to the British & Irish Lions tour to Australia next year.
Sky Sports viewers with Sky will be able to enjoy all three Tests plus seven tour matches in June and July 2013 across TV, PC, mobile and tablet devices.
The deal extends the relationship between Sky Sports and the British & Irish Lions into its 17th year and the tour will be the fifth shown exclusively live by the broadcaster since 1997.
The British & Irish Lions will take on World Cup semi-finalists Australia in three Test matches plus tour fixtures against the likes of Australia's Super Rugby teams. The tour begins in June with a match against the Barbarians in Hong Kong.
Between now and June 2013, Sky Sports viewers will be able to follow many of the contenders as they compete for Lions and Australian selection across international, European, and domestic competition. The schedule comprises:
INTERNATIONAL: England's QBE Autumn International matches against Fiji, South Africa, Australia and New Zealand.
EUROPEAN AND DOMESTIC: live coverage of the Heineken Cup and Amlin Challenge Cup plus every round of the Aviva Premiership.
AUSTRALIA: an autumn clash with England, plus southern hemisphere's Rugby Championship and Super Rugby.
Barney Francis, managing director at Sky Sports, said: "This deal secures even more fantastic live rugby union on Sky Sports. Our viewers can enjoy a fascinating build up to the Lions tour, which itself promises to be a must see event.
"This deal provides Sky Sports with an unrivalled choice of high quality action. Together with the British & Irish Lions, we have long-term agreements in place to show the best in live sport, including Premier League and UEFA Champions League football, Test and one-day cricket, Formula One plus European, Ryder Cup and US tour golf. Our coverage also remains pioneering and available across multiple platforms. Taken together, Sky Sports remains the home of sport, with the best line-up of sport in the UK and Ireland."
John Feehan, the British & Irish Lions CEO, said: "We are absolutely delighted that Sky will be showing the British & Irish Lions tour to Australia and Hong Kong live next year. Over the last number of tours we have come to expect only the best coverage and huge commitment from Sky to showcase the best of British & Irish rugby talent. This continued support from Sky is particularly welcome for next year which will mark our 125th anniversary as the British & Irish Lions."
Three-time British & Irish Lion and Sky Sports analyst, Will Greenwood, added: "To be a Lion is the greatest accolade afforded to any British & Irish rugby player and the tours offer drama and excitement in equal measure. Coverage on Sky Sports has helped build excitement and anticipation over the years, with not just the Tests but also every tour match shown live. And our schedule offers the perfect build up over the next few months."
The new deal with The British & Irish Lions follows recent renewals with The Premier League [to 2016], La Liga [to 2015], The European Tour [to 2018], UEFA Champions League [to 2014/15], Football League [to 2014/15], England and Wales Cricket Board [to 2017], ICC Cricket [to 2015] and Rugby Football League [to 2016].