Lions assured over provincial sides
The British and Irish Lions have received assurances they will not be facing weakened provincial teams in Australia.
Last Updated: 04/09/12 5:42pm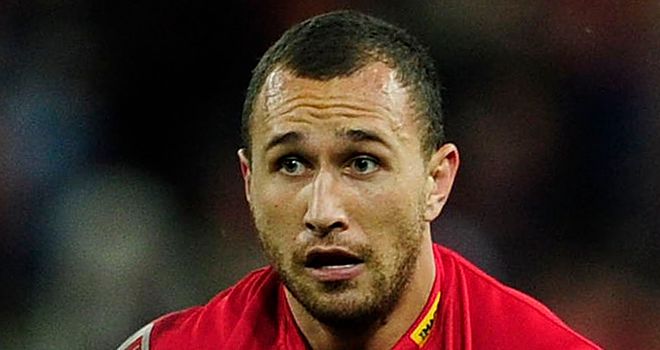 The British and Irish Lions have received assurances they will not be facing weakened provincial teams in the early matches of next year's tour of Australia.
Three years ago, the Lions were disappointed that South Africa withdrew their international stars from the tour matches, to keep them fresh for the Test series.
But the Australian Rugby Union have committed to fielding their strongest possible provincial teams, at least until the NSW Waratahs game a week before for the first Test.
"We were disappointed in South Africa that we didn't get the calibre of teams that we thought we were going to encounter," said Lions chief executive John Feehan.
"It is also fair to say that the tougher the teams are the better the preparation for the Test games.
"We have got a commitment from the ARU to put their best teams out. They want to play their internationals through the provincial games, perhaps up to a week before the first Test, and they have a commitment.
"It is not just to do with rugby but how they sell rugby union in Australia. They see the provincial games as a way of bringing rugby back to the general public in Australia.
"It is a very competitive sports market there with rugby league and Australian rules. For that reason they will not only price the games appropriately they also want to play their best players.
"They see it as in their interests. They are not doing it because they like us, necessarily."
Opener
The first match of the Lions' 125th anniversary tour is against the Barbarians in Hong Kong on June 1, just a week after the Aviva Premiership and Rabo Direct PRO12 finals.
"The Barbarians are earmarking this as one of the most important games they have ever played and for that reason alone they will be going out of their way to get a quality side," Feehan added.
Warren Gatland's men then face Super 15 outfits the Western Force and Queensland Reds, where the Lions will hope to be up against the likes of David Pocock, Quade Cooper and Will Genia.
Australia coach Robbie Deans may decide to rest his international players from the NSW Waratahs game, which is a week before the first Test in Brisbane.
The Lions then meet the ACT Brumbies and the Melbourne Rebels in midweek either side of the first Test. The second international is in Melbourne and the third in Sydney.
For Gatland, a strong preparation for the Test series is vital.
"From a coaching point of view you would like those Super Rugby sides to be as strong as they possibly could be," he said.
"That is potentially where we got caught in 2009. Going into that first Test, we hadn't been under any pressure at scrum time and then bam, we got a wake-up call in the first Test and we had to sort that our pretty quickly.
"There was no indication beforehand we were going to be under any pressure because we were playing teams without Springboks in their front row and they were being kept away."
2013 tour schedule:
June 1: Barbarians v Lions (Hong Kong Stadium)
June 5: Western Force v Lions (Perth, Paterson's Stadium)
June 8: Queensland Reds v Lions (Brisbane, Suncorp Stadium)
June 11: Combined Country v Lions (Newcastle, Hunter Stadium)
June 15: NSW Waratahs v Lions (Sydney, Sydney Football Stadium)
June 18L: ACT Brumbies v Lions (Canberra, Canberra Stadium)
June 22: Australia v Lions (Brisbane, Suncorp Stadium)
June 25: Melbourne Rebels v Lions (Melbourne, AAMI Park)
June 29: Australia v Lions (Melbourne, Etihad Stadium)
July 6: Australia v Lions (Sydney, ANZ Stadium)