O'Neill: I'm flattered
ARU boss John O'Neill has laughed off Warren Gatland's claims that he is a master of dirty tricks.
Last Updated: 06/09/12 8:06am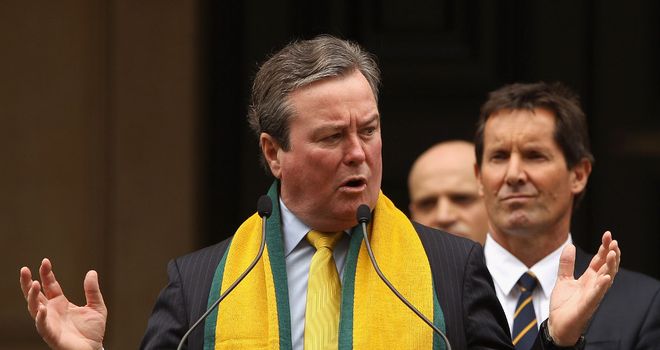 Australian Rugby Union chief executive John O'Neill has laughed off Warren Gatland's claims that he is a master of dirty tricks.
Gatland has alleged O'Neill's behind-the-scenes complaints about referee Bryce Lawrence contributed to the Wallabies' quarter-final victory over South Africa.
The Lions coach raised the issue as an example of the challenges his squad will face on and off the pitch in next year's 10-match tour of Australia.
"They are masters at it and possibly the best one was John O'Neill, as a master of influence in certain things," Gatland said.
"I don't see any better example than how the (World Cup) quarter-final between South Africa and Australia was influenced. It was a master-stroke.
"I'm not 100% sure, but I think that after Ireland beat Australia in that pool game, certain complaints were made about the referee (Lawrence), subtly and tactfully, and I think that had an impact on the quarter-final.
Ambush
"We've got to be aware about what sort of things are going to be done on and off the field to put us off."
O'Neill, though, has told the Sydney Daily Telegraph the ARU had only made "inquiries about interpretations at the breakdown" following the Wallabies' defeat to Ireland.
"It's quite flattering that Warren to give us credit for influencing referees but the reality is we all know referees are beyond reproach," O'Neill said.
"I would say we were a bit taken aback that Bryce Lawrence was given so many Wallabies games but ultimately, he did an outstanding job in the game against the Springboks."
In 2001, O'Neill sought to counter the sea of red Lions supporters by handing out gold scarves and hats to Australia fans for the memorable Test series won, in the dying seconds, by the Wallabies.
In the week of the 2003 World Cup final, an Australian newspaper urged fans to make noise outside the England team hotel and even set off fire alarms.
"The forthcoming Lions tour wouldn't be the same with a few theatrical distractions and the odd ambush. That's the nature of these Lions tours," O'Neill joked.