Warren Gatland makes it clear his Lions captain will have to earn Test spot like everyone else in squad for Australia tour
Lions head coach Warren Gatland would have no hesitation in leaving his tour captain out of the Test side in Australia.
Last Updated: 28/11/12 10:23pm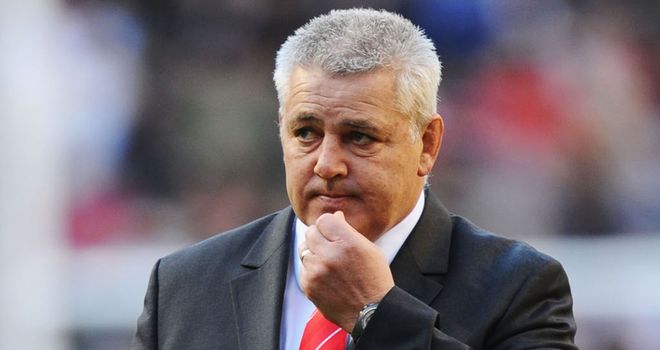 The Lions captaincy is arguably the greatest honour that can be bestowed on any player from the four home unions, and marked out the likes of Willie John McBride and Martin Johnson as the finest rugby leaders of their generations.
Such is the magnitude of leading the Lions it has been rare for a captain to miss out on Test selection for any reason other than injury, as was the case with Brian O'Driscoll in New Zealand in 2005.
The likes of Wales captain Sam Warburton, who is struggling for his best form, England counterpart Chris Robshaw, and Ireland's O'Driscoll have been mentioned as candidates to lead the Lions Down Under, although a decision will not be revealed until the squad is named in the spring.
"Whoever is appointed captain we would have spoken about it before with the squad and reiterated it's all about performing," said Gatland.
"If that means picking the best team and leaving the captain out because someone else is playing better, then I am more than comfortable and prepared to do that.
"It is a professional game and we have to protect the Lions in the best possible way we can by picking the best possible players.
"You could potentially pick an experienced player - these are just some of my thoughts - and you could say 'you might be tour captain but there is a chance you might not be good enough to be selected for the Tests. But you could be very good for us as a tour captain and if your form is good enough you get selected'.
"There are a lot of potential options. Number one is picking a captain whose form is good enough to be in the Test team and has the respect of the squad, but if that is not the case you have to look at alternatives or other scenarios.
"Picking the squad will hopefully cover all of those issues."
French connection
Gatland has also faced questions over whether he would be prepared to select players plying their trade with French clubs.
Steffon Armitage, Andrew Sheridan and Jonny Wilkinson have all impressed for Toulon this season, with Wales' Mike Phillips, Gethin Jenkins and James Hook also cross-Channel candidates.
The French Top 14 final takes place on June 1, the same day the Lions begin their tour with a fixture against the Barbarians in Hong Kong, and Gatland's preference is for all players to already be with the touring party for that game.
But the former Ireland, Wasps and Waikato boss also hinted that fitness issues may also have a detrimental impact on the Lions aspirations of those based in France.
He said: "We had an experience with Mike Phillips on the weekend (against New Zealand) where he was blowing after 52 minutes and we had to get him off.
"He was not there, and playing in France you run the risk of not being looked after in terms of our standards and expectations.
"They have a different philosophy out there. They are quality players, but the preparation and approach is different.
"If they do fitness it's normally with one fitness guy who puts a programme up on a wall and the players are not monitored as keenly as clubs in the UK and Ireland probably do, and that is what players have to look at.
"Are they physically in the best shape to compete at the highest level even though they may be playing quite well in France?"