Johnny Sexton: Ireland youngsters need to make mark on Six Nations
Johnny Sexton has challenged Ireland's youngsters to step up to the plate in this year's Six Nations
Last Updated: 02/01/13 12:03pm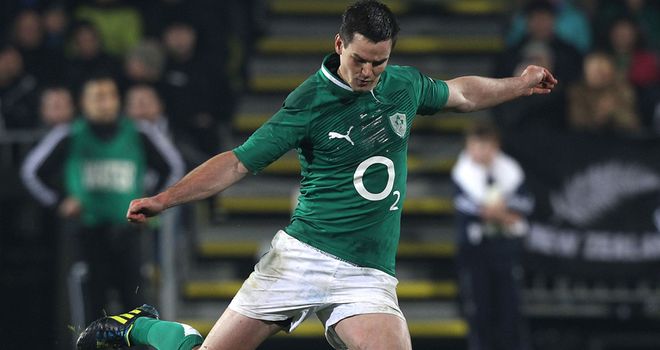 The Irish finished third behind Wales and England in the 2012 campaign and Sexton, speaking in an exclusive interview with Sky Sports, recognised they were a team in transition.
"Playing with guys like Brian O'Driscoll has been an honour for me and I'd put a lot of other players in that bracket - you learn so much from these guys," he said.
"But it's time now for the younger guys to come in and start taking ownership of the team.
"Those guys earned their reputation by producing in an Ireland jersey year in year out - the younger guys, we've produced on occasion but we haven't done it consistently and that's what we need to do now going forward.
"People probably think I'm a new boy because I look about 15! But I'd say I'm somewhere in the middle - I've just turned 27 so it's up to people like me to take charge of the team.
"I found it hard when I first came in because Ronan O'Gara had been the outside-half in that team for 10 years and I wasn't sure whether the guys would listen to me in the same way they'd listened to him - they are the kind of doubts you have when you come in."
Sexton is currently in pole position to land the No 10 shirt for the Btitish and Irish Lions tour of Australia in the summer, but the Leinster fly-half is not counting his chickens.
He added: "It's something I desperately want to go on but it's not worth thinking about right now. I need to concentrate on my week-to-week performances.
"People say it's the pinnacle - and it is. Only the best players get picked and it will be a massive honour for anyone who is picked. But then every player in Europe will have that as a goal - it's going to be a tough thing to do, to get on that tour. But for me, it's about trying not to think about it.
"The South Africa tour - the 'Living with the Lions' documentary, I must have watched that about a hundred times and I remember Brian's try against Australia.
"I watched the last tour to SA a bit differently because by then I was a professional rugby player and envious that I wasn't involved - it seems like such a good place to be and an amazing trip to be part of."