Andy Irvine says Lions selection is 'wide open'
British and Irish Lions tour manager Andy Irvine believes selection for the tour to Australia is "very wide open".
Last Updated: 07/03/13 2:09pm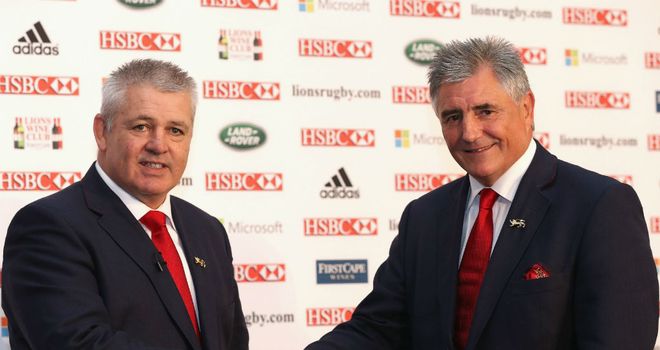 Lions head coach Warren Gatland is expected to announce his squad for the three-Test tour in late April.
And with two rounds of Six Nations fixtures remaining, Irvine feels the next two weeks will be key in some of Gatland's selection decisions.
"The next two weeks are absolutely crucial. It's an old cliche, but there is still an awful lot to play for," said Irvine. "The next couple of rounds of the championship will probably go a long way in determining who might, and might not, go on tour.
"Selection is going to be extremely difficult because there are so many positions wide open where there are a number of genuine contenders. It's going to be a very long debate as to who does, and doesn't, make the trip.
"After some games it looks as though selection has cleared up a bit, and then after the next game it all changes again.
"Things are very wide open - I don't think there are all that many certainties pencilled in. There are a number who are highly likely to go, but certainties would perhaps be a bit too strong.
"There are still two games to go in the championship, and there are a good few league and European matches left as well, so it's still quite early in the selection process."
History
The Lions have not won a Test series since beating South Africa 2-1 in 1997 but Irvine is confident Gatland can build a squad capable of success in Australia.
"We are going to have a combination of an old guard that have been there and got the badge of honour, so to speak, and some really exciting youngsters," Irvine said in the latest edition of the Lions Rugby Newsletter.
"It's Warren's call because ultimately he is responsible for selection. But, if you look at his track record, he has been quite innovative and adventurous in bringing through young talent, both when he was with Ireland and, more particularly, with Wales.
"I wouldn't be surprised if some youngsters with real potential find themselves on the tour. I would say that there is a pretty decent chance of that happening."
The Lions start their tour against the Barbarians in Hong Kong on
June 1 before facing Australia on successive Saturdays from 22 June in Brisbane, Melbourne and Sydney.