Australia full-back Kurtley Beale takes big step towards facing Lions
Wallabies full-back Kurtley Beale is back in the Melbourne Rebels side, increasing his chances of taking on the Lions.
Last Updated: 01/05/13 9:59am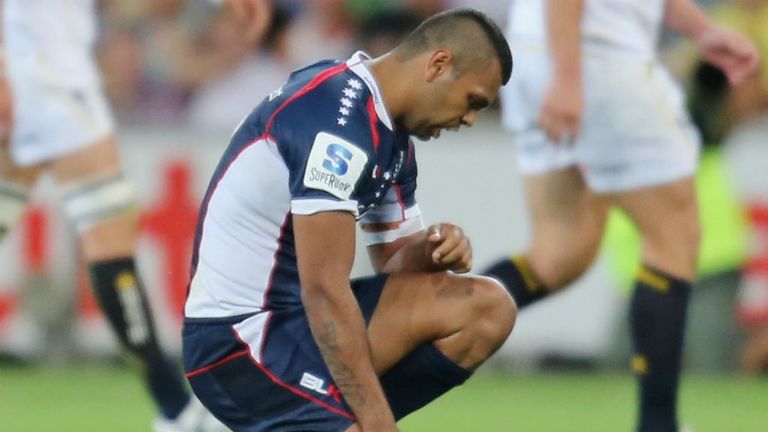 Beale was suspended indefinitely for punching team-mates Cooper Vuna and Gareth Delve in a nightclub following a 64-7 defeat to the Sharks in Durban on 23 March.
He has been given counselling for alcohol-related problems since the nightclub incident.
But the hugely talented back addressed the Rebels squad and coaching staff on Tuesday and has been named in the 23 to face Waikato, and will start on the bench.
Coach Damien Hill said: "Each decision ultimately is made in the best interest of the club and the team.
"In this instance, that is what we believe we have done, and that is the most important aspect in this decision for him to return from the bench on Friday night.
"He presented to the playing group in a very candid and honest manner. Knowing these players well, I know how much they want the club to succeed, and have welcomed him back."
Beale was left out of Australia's preliminary squad for the Lions Tests, but coach Robbie Deans said he still had time to press his case before the final squad is named later this month.
"If Kurtley's fit and available and there's no hurdles to clear then he's selectable, but obviously he's got to return to the playing field," Deans said.
"He's been training over the last month, he's worked very hard and he's in good shape.
"The critical thing is Kurtley in life, because he'll only be a rugby player for a certain amount of time and we want to see him thrive in life, first and foremost - that's far more important than whether he plays a Test match or not.
"That's where we're starting, we're dealing with that and if he deals with that he'll deal with the other easily, because what he does in-game he does naturally and instinctively, he loves it and that's not difficult for him."
Watch the every Lions game live and exclusive only on Sky Sports. To sign up or upgrade click here