Stuart Hogg admits to being awestruck by Lions team-mate Brian O'Driscoll
British and Irish Lions rookie Stuart Hogg is hoping to pick the brains of veteran Ireland centre Brian O'Driscoll.
Last Updated: 30/05/13 5:32am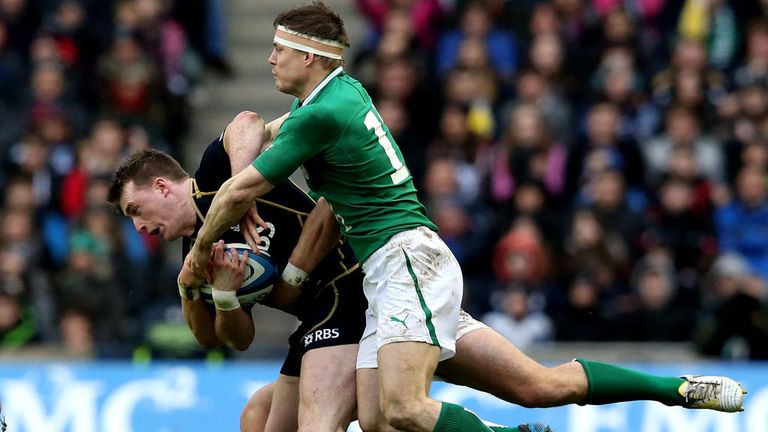 The Scotland full-back is the youngest man in the Lions squad at the age of 20 and is ready to seize the chance to learn from some of the best players in the game.
And while fellow full-backs Leigh Halfpenny and Rob Kearney are the most obvious choices for him to draw inspiration from, Hogg admits it is O'Driscoll that he has most been impressed by.
"Being with the Lions has been a really good experience," Hogg said. "On Sunday, Brian O'Driscoll turned up and that was pretty unbelievable.
"He was my hero growing up. I remember that try he scored for the Lions (against Australia) in 2001.
"He is someone to look up to for his attitude on and off the field. He's down to earth and I have a lot of respect for that.
"To have the chance to train and play with him is a dream come true. It's quite surreal at times.
"It would be good to have a chat with him and see what he's got to say. I'm looking to learn during this whole tour, so it's great to have a guy like that on the trip.
"First and foremost I'll be looking to learn from Leigh Halfpenny and Rob Kearney in terms of being a 15, but you can learn from everyone."
Upbeat
Hogg is expected to be on the bench for Saturday's tour opener against the Barbarians at Hong Kong Stadium and after a fortnight's intense preparation he is desperate to get started.
"The mood is upbeat and positive," he said. "Everyone has a smile on their face, which is exactly what we are after.
"The Test series in Australia is a massive opportunity to create some history. Our expectations down there are to win and that is all we are concentrating on.
"We want to pick up as many wins as we can on the road and then the Test series at the end of it.
"It's not about nationality with the Lions because it's four nations in one, but at the same time I am looking to do my country proud.
"I will do that by playing my best for the Lions."
Watch every Lions game live only on Sky Sports. To sign up or upgrade click here