Andy Farrell backs rookie fly-half Stuart Hogg to be a hit for the Lions
Andy Farrell has no worries about rookie fly-half Stuart Hogg when he takes the Lions No 10 shirt on Tuesday
Last Updated: 11/06/13 10:20am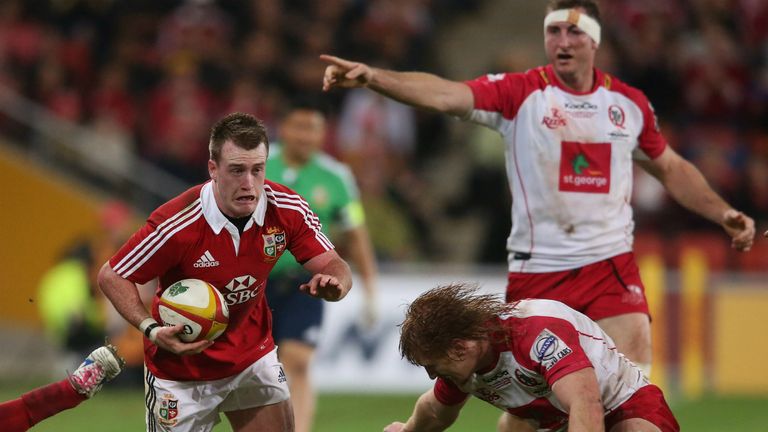 The Scotland star, normally a full-back, is being given a run-out against a Combined Country XV on Tuesday so that Jonathan Sexton and Owen Farrell can rest their battered bodies.
And Lions assistant coach Farrell has no doubt the 20-year-old can shine, having been impressed with his maturity.
"Just watching the kid in training today, it was his first run and he was dictating to the boys on his inside and outside," Farrell said.
"He has been great. He is doing what a fly-half should do - dictating and putting them in the right place. He understands the game-plan and he's got an X factor as well.
"He's got a long kicking game, he's good at kicking at posts in training, and his passing game and running game is exceptional.
Organise
"He has to make sure he doesn't confuse himself too much by trying to facilitate too much, and make sure he brings his natural game to the party.
"If you understand what he's about and what his make-up is, he wants to get in there at first receiver and organise. That is what he naturally does, and people who have coached him more than most would tell you exactly the same.
Watching in the stands at Newcastle will be Tommy Bowe, provided he has recovered from the operation on his broken hand.
The Lions have not given up on the Ireland wing being available for the Test series.
"Tommy is coming down off morphine now and he's getting his head back together," Farrell said.
"He will be in a heavy bandage/plaster for a couple of days. He will then take that off and put it in a lighter splint to try and get the wound to heal as quick as possible.
"The wound is the key thing at this moment in time, making sure that heals and there is no infection. Then he should be fine. The medics will keep assessing him, but it still could be a couple of weeks."
Watch every Lions game live only on Sky Sports. Click here to sign up or upgrade now.