British and Irish Lions: Brian O'Driscoll satisfied after 10-try rout
Brian O'Driscoll was pleased with the British and Irish Lions' defence during the 64-0 win over Combined Countries XV.
Last Updated: 11/06/13 1:31pm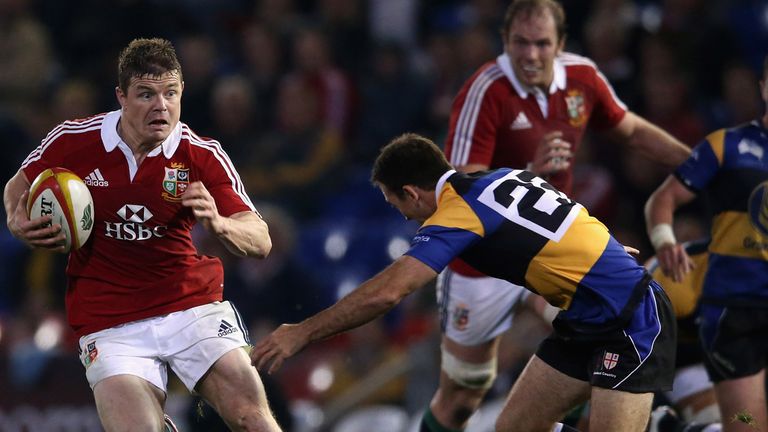 The Lions cruised to a 64-0 victory in Newcastle, scoring 10 tries with stand-in captain O'Driscoll touching down in the second half.
"It was good outing," said the Ireland centre. "We didn't know what to expect with the opposition but they certainly gave it the full 80 and tested us at times.
"I think one of the most pleasing factors is that we kept them scoreless. We put a lot of emphasis on our defence so I'm pleased with that aspect today.
"We scored 10 tries which is a good outing against any opposition."
O'Driscoll formed a devastating partnership with Jamie Roberts on the 2009 tour of South Africa, and the pair were reunited at Hunter Stadium.
"It was good to be back with the big fella," said O'Driscoll. "We struck up a good partnership in 2009 and it was great to pick it up again.
"Jamie's a pleasure to play off. He's a big ball carrier, similar to Manu (Tuilagi) last week, and has got nice subtlety to his game. I think we played reasonably well but left some room for improvement."
Next up for the Lions is a clash with the Waratahs on Saturday and O'Driscoll says they must find another gear.
"The team is going to grow with games and be able to try new things; we have to make sure we keep the Wallabies guessing,"he said.
More to come
"Hopefully there's more to come but the more games we have together, the more opportunities we have to gel. We're enjoying each other's company and we're able to express that out on the pitch.
"There's good team spirit there. Some of us have only been together for two and a half weeks. The more time you spend in one another's pockets, the more you get to know the inner secrets and form a tight bond."
Watch every Lions game live only on Sky Sports. Click here to sign up or upgrade now.