British and Irish Lions: Sam Warburton boosted by Graham Rowntree's praise
Lions assistant coach Graham Rowntree has praised the attitude of under-pressure captain Sam Warburton.
Last Updated: 15/06/13 3:58pm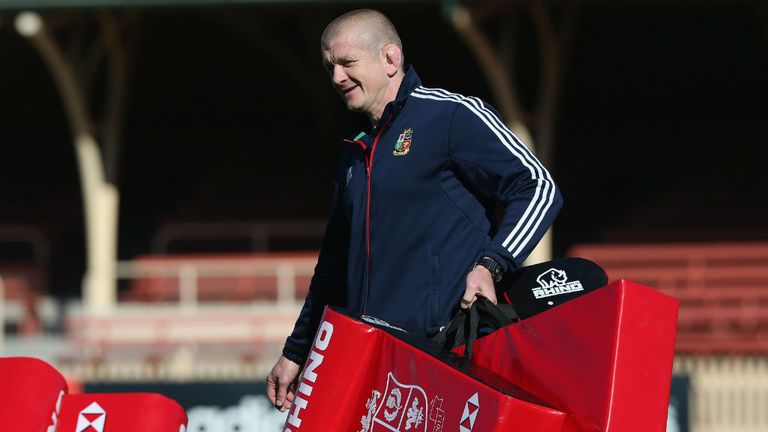 The Wales flanker lines up against the Waratahs on Saturday knowing he needs a big performance after some impressive displays from his back-row rivals on the tour so far.
But with the first Test against Australia fast-approaching, Warburton has received a much-needed boost from Rowntree.
"I have been very impressed with Sam," said Rowntree.
"He is very professional. He is certainly not showing any signs of stress or pressure.
"Like all the other players, he goes about his business. I have been really impressed with him as a person.
"He is a doer, and a lot of guys are following his lead in terms of his attitude to training, his diligence.
"It is not getting any easier in terms of selection. There are a lot of guys putting their hands up.
"We will get tomorrow out of the way, and then Tuesday (against the Brumbies), and then we will pick a Test team. That is the truth."
Bump
Rowntree is hoping that Scotland lock Richie Gray will be fit for the Brumbies clash after being ruled out of Saturday's clash with a shoulder injury.
"He has got a bump on his shoulder," Rowntree said.
"He is certainly not fit for this weekend, and we are hoping he is going to be fit for Tuesday. At this stage, I am counting on him being fit for Tuesday."
The Lions lineout struggled to function during last Tuesday's 64-0 rout of a Combined Country XV in Newcastle.
However Rowntree insists that it was a case of combinations not gelling yet rather than it being a weakness.
"We had a few issues in the lineout on Tuesday night," he added. "We dropped three from 16, but a lot of that was just personnel that hadn't played a lot together.
"That's what you get on a tour like this. You take it on the chin and move on.
"I actually thought they battled very well as a pack on Tuesday night. They didn't really get enough credit for the performance they put in."
Watch every Lions game live only on Sky Sports. Click here to sign up or upgrade now.