British & Irish Lions: We are ready for travelling fans this time
Stephen Moore says Australia are ready for a sea of red in the stands in Saturday's first Test.
Last Updated: 21/06/13 2:39pm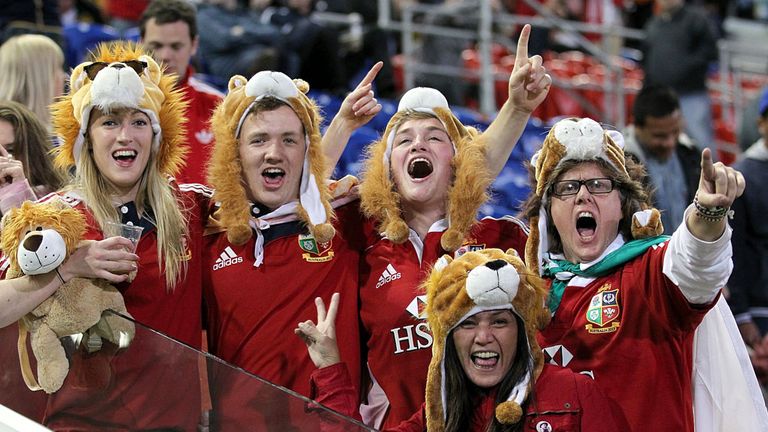 Twelve years ago, the Australians were stunned by the sheer number of travelling Lions fans for the series.
Over 30,000 are believed to have travelled Down Under for the series, and the Australia supporters were outnumbered and outsung by their counterparts.
The Lions were roared on to a 29-13 victory before the Wallabies turned the series on its head by winning in Melbourne and Sydney.
As an 18-year-old, Moore was in the stands at the Gabba in Brisbane in 2001 and he admits he was staggered by the away support.
"That was the first time Australian fans had seen that kind of thing for a long time in terms of that sea of red," he said. "Speaking to a few of the players involved in that game, they were really taken aback by it. And these were players who had won World Cups and big matches.
"The intensity of the game was massive and Saturday is going to be the same. It will be something we haven't experienced before.
"Some guys will be playing their first Test and others their 70th or so - but none of us have played against the Lions before so we're all very much in the same boat."
Several retired Wallabies with experience of facing the elite of British and Irish rugby in 1989 and 2001 have been speaking to Robbie Deans' squad, briefing them on what to expect.
Moore was particularly struck by the words of David Giffin, who played two Tests against the Lions the last time they travelled Down Under.
"David Giffin's a guy who's played a lot of Tests (49) for Australia and the main thing he said is that there are very few players who get the chance to play the Lions," Moore said.
"To speak to someone like that who has achieved so much, and to hear how special that Lions experience was to him, that really hit home to us.
"We realise it's a very special occasion. There are guys like Nathan Sharpe who have played over 100 (116) Tests who never had this opportunity, so it's important we make the most of it."
Watch every Lions game live only on Sky Sports. Click here to sign up or upgrade now.