Lions Tour: Warren Gatland says Test series glory in Australia would be 'life-changing'
Lions coach Warren Gatland says Test series glory in Australia would be 'life-changing' for the players.
Last Updated: 29/06/13 10:51am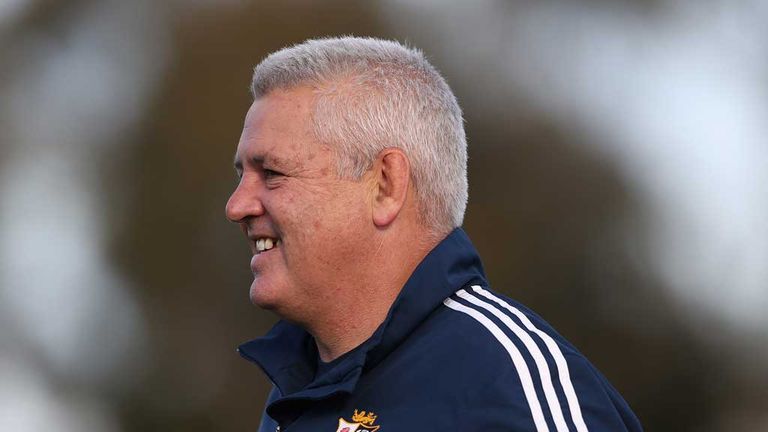 The tourists have the chance to wrap up the three-match series with victory in Melbourne on Saturday - one week after a dramatic 23-21 victory over the Wallabies in Brisbane.
And Gatland said: "Potentially, for a lot of them (players), winning on Saturday has the potential to change a lot of their lives in a positive way, the opportunities that may create in a lot of different avenues.
"We just need to make them aware of potentially how important Saturday is and the Test series is. It's that close.
"It (weight of expectation) is something we are well aware of, but you can't let that weight of expectation dominate your performance in the game.
"It can't consume us, and it is important it doesn't do that. We need to have that clarity of being mentally strong. If that weight of expectation is too heavy, you can sometimes go into your shell and it can constrict your play.
Changes
"We have to make sure we get the balance right between identifying that, talking about that, but also giving the players the freedom to play, to go out there and express themselves and win this Test series."
One of five changes to the Lions' starting XV sees Wales scrum-half Mike Phillips dropped from the squad altogether - and Gatland revealed the 30-year-old is struggling with a slight injury.
The New Zealander said: "He hasn't done a lot of training. He admitted afterwards that his knee was a bit sore during the game (first Test).
"He is feeling good at the moment, and I think it was prudent to not put him out this week. The luxury of us being able to do that is how good the other two nines have been going.
"Mike started the tour with a bang, and then he got that knock and it set him back a little bit and he probably wasn't at his best last week in terms of certain aspects of his game. He is such a competitor, we want to make sure he is right for next week."
Honest
Gatland has praised referee Craig Joubert ahead of Saturday's second Test showdown with Australia.
The tourists fell foul of first Test official Chris Pollock in Brisbane, with the Lions struggling to cope with his interpretation of the laws - particularly at the breakdown.
Gatland, though, has given South African Joubert, who took charge of the 2011 World Cup final between New Zealand and France, a ringing endorsement.
"I rate him really highly as a referee. We have a good relationship with him," Gatland said.
"What I like about Craig Joubert is that he's very personable and he has got a good feel for the game.
"He's honest. If he makes a mistake, he is the first person to come up to you, put his hand up and say that he made a mistake.
"As a coach, you can't ask any more of a referee. They make mistakes, we make mistakes as coaches and players make mistakes. People putting their hand up and being prepared to admit that makes the conversation so much easier going forward.
"That is why I really like dealing with him because you just feel you are going out there with a guy who brings a human element to it.
"He is going to try to do his best. You are not going to get everything right, but if he does get a few things wrong he is open and honest about it, and that's brilliant."
Watch every Lions game live only on Sky Sports. Click here to sign up or upgrade now.