Our rugby experts share their views on Lions v Reds
Our experts give their thought as the Lions won a hard-fought game against the Queensland Reds.
Last Updated: 09/06/13 5:06pm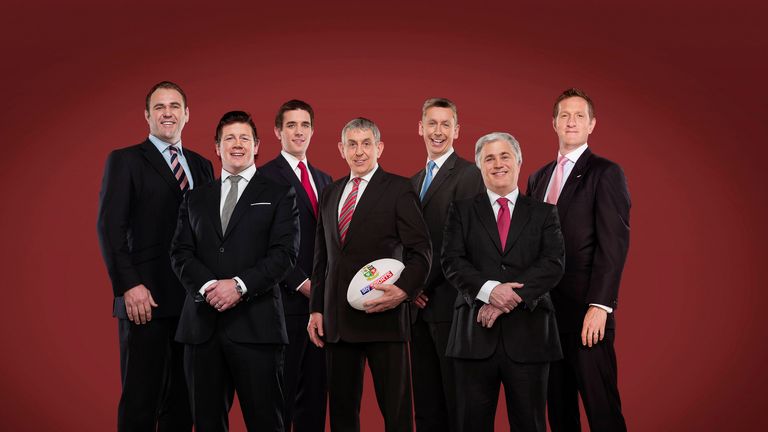 In a highly entertaining game the Reds, led by the impressive Quade Cooper, took the game to the Lions and caused them all sorts of problems. Credit to the Lions who tightened up their game and learnt valuable lessons ahead of the first Test in two week's time.
The likes of Ian McGeechan, Ieuan Evans, Stuart Barnes, Dean Ryan and Paul Wallace share their thoughts...
Ian McGeechan
Full-time thoughts: I thought the Lions had really good focus, they did not panic. They got hold of the game and there were some very good tries from them. I was impressed with Tommy Bowe again. He looks for work, gets into good position and his defence was really good. He is so positive, he is always there on someone's shoulder -I was very impressed. George North played really well when he came on as well. The Lions have got some players playing really well in these wide positions.
Toby Faletau went well today - both him and Heaslip are going well and if you have that core backrow and midfield on top of their game then the back three can play off it and the front five can play off it.
We are starting to see some of attack coach Rob Howley coming into the Lions game plan. He really likes the width - in 2009 we were trying to load the outside channels up so that players were in position early - that means you can pass to space rather than run to it. That forces defences to make calls. If you have got the width and your attack is square then you have defenders who are opening up and the inside shoulder becomes the danger area - defenders really have to think what they are doing.
Half-time thoughts: It was pretty obvious that Queensland came out and were going to run everything. They are good and use their hands well - they found a little bit of space behind the Lions. The pace they were playing at in that first 15 minutes caught some of the Lions out. They had to regroup and come back. If I was Robbie Deans I would be looking at Luke Morahan as one of the six I would want to add to my squad.
Warren Gatland will have a good idea of Test combinations now. He might look at putting a couple of them out on Tuesday and then give them 10 days to build up to the Test match, others he will definitely look to put together for the Waratahs game. He will have a feel now for what he wants. The understanding is coming through the squad though - when the subs come on their game gets better because the understanding is the same but you are getting fresh, strong players who are delivering it for 80 minutes. That will be key for the Test matches.
Stuart Barnes
Full time thoughts: If the Reds had their full quota of players they may well have won. But then again this is nowhere near a Test strength Lions team and that has to be recognised as well. The other thing we need to take out of this game is that the style of the Reds is not how Australia are going to be playing against the Lions. They are far more fluid and they put a lot more width on it. Unless Quade Cooper comes back into the Wallaby squad - and I don't think that is going to happen - then the Lions will play against players like Pat McCabe who will make big hits, they will be much more defensive and look to stop the Lions. The Reds came out not looking to stop them, but to take them on. In the long term the problems the Reds caused the lions defensively may just work in the favour of Warren Gatland.
It was not the perfect performance from the Lions - they were perhaps dependent too much on their scrum and lineout but they will look at what went wrong and have got plenty of time to fix it.
The big worry is probably the injury to Tommy Bowe who was looking like the Test wing. His injury will be the biggest blow for Warren Gatland & co.
A big plus for the Lions was George North who was very good. I think Richie Gray made a case and Dan Lydiate went the distance again. Gatland loves him and he is a big contender.
Ieuan Evans
Lessons learnt: They would have learnt that the Australians will want to play a high temp game - of that there is no doubt. Especially with the likes of Will Genia -if he gets quick ball he will exploit the areas.
What pleased me about the Lions today was, yes they did not control vast amounts of the first half, but they wrestled the initiative back. That was an important aspect of today. They have not been put under any pressure in the last two games, but today they were. Yes, the set piece went well but generally the pace and the pattern of the game was dictated by the Reds and I am pleased the way the Lions reacted. They said lets play the way we want to play and do it well - if they want to win a Lions series they need to play their game and play it well.
When the Lions game-plan works they create these big openings and that is what these big pacey men like George North want. North is such a good ball carrier and he is also very elusive. He is one of the guys who really stood up for me today. Richie Gray and Mako Vunipola also went very well today.
On Sam Warburton: he has not played a lot of rugby and it showed at times - especially in that first half where the tempo was fast and furious. He got better as the game went on but I think he needs two or three more games. I would start him again on Tuesday - he needs game time.
On Luke Morahan try: It was a breathtaking try, he has been man of the match in the first half. He has great balance and great acceleration. It is a scintillating try!
On George North: What I like about George North is that he is just not a big bosher and that is why I like him as a potential 13. He has the footballing skills to play in the open field.
Paul Wallace
Full time thoughts: Do you want to play some really exciting rugby, entertain the crowds or do you want to play to your strengths? Which is grind it up early on, take the legs out of the front five and then see if the opposition can play that high tempo game. I think if the Lions can do that, maul a bit and then start playing that wide pattern.
The great weapon in the arsenal of the Lions is the squad. The strength of depth and the impact they have on the bench. We saw what North did but the real guy for me was Paul O'Connell. At the breakdown he completely blitzed everyone and the amount of work he got through was immense. He probably outshone the backrow in the last twenty minutes.
On Lions: Yes they are playing a bit of frenetic rugby and I would like to have seen them kick for touch a bit more and use the front five to take the legs out of the Reds. But the Lions are comfortable on the ball and weathered the Reds well. George North has come on and what an impact he has made, he is such a big man.
Dean Ryan
On Lions defensive issues: Any side with Quade Cooper in is going to give defensive coaches a nightmare and Andy Farrell will be no different. Firstly you have got to understand what Farrell wants - he wants numbers on their feet, he likes a straight line with his wingers up and putting pressure on the opposition. The danger of that with Quade Cooper is that he can get behind the defence. His wide pass can take four or five people out. The Lions have issues with someone like Cooper with so much a wide press and have got to be careful with their straight press on defence.