Our rugby experts share their views on Waratahs v Lions
Find out what our experts thought about the Lions' 47-17 victory over the NSW Waratahs.
Last Updated: 15/06/13 1:53pm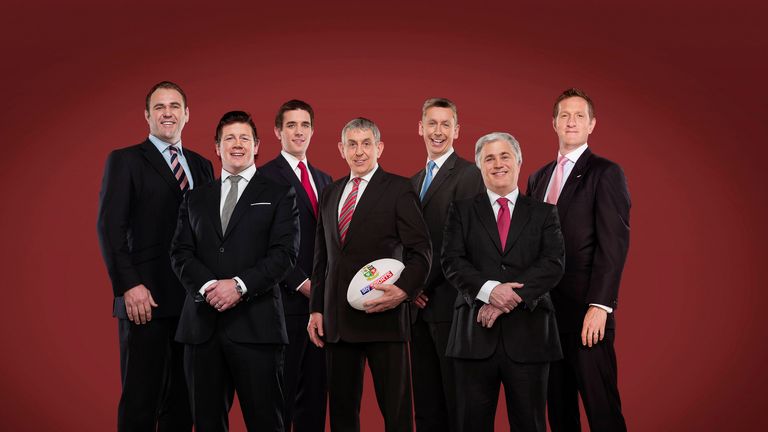 Wales full-back Halfpenny crossed the try-line twice on his way to a 30-point haul, with Jonathan Sexton, Tom Croft and Jonathan Davies adding further tries.
There were plenty of big performances from the tourists but the Sky Sports pundits acknowledged that the 30-point winning margin didn't tell the whole story...
Stuart Barnes
Full-time thoughts: "The Lions were expected to win this game and in the end they won it well but they were forced to play some very decent rugby by a Waratahs team that can take a huge amount of credit, not just from the courage of their game but from their commitment and their ability to ask questions - particularly in the wide channel. There is still work for the Lions to do there and there is still the question about what they do with the lineout strategy. Everything went to the front today and that was good but when it went long it still didn't work.
"I think the most important thing today is that you really felt that you are on a Lions tour - the goose-bumps were going - and certain players said 'I am your Test man'. Gatland will now have a very good idea of 13-14 of his team."
Scott Quinnell
On Sam Warburton: "I thought he was superb. His tackle count was huge. He got over the contact area and really worked hard in those areas - and he led from the front. That was absolutely wonderful to see. This is exactly what we want from him - getting in there, feeling good about what he does and doing it well."
On areas to improve: "There are a couple of issues. The scrum struggled a touch in the first half and, although Sam did particularly well, I still think we lack a back-rower at the contact area: someone who can smash over the top of that contact area, getting that quick ball for Mike Phillips. Mike did what he needed to do today but you didn't see him go forward like he'll have to do next Saturday. So there are little things they need to work on but it was a wonderful performance overall."
On Tom Croft: "We talk about Paul O'Connell and Alun-Wyn Jones having an engine - well, Tom Croft's got one too. That's why they can go for the full 80 minutes. They really did step up. Those three individuals really were the heart of that pack, taking them forward. When you think of the performances they put in under pressure seven days ahead of the first Test it's incredible.
Paul Wallace
Full-time thoughts: "Alun-Wyn Jones was outstanding and I think he's really played his way in, as has Tom Croft. With Jamie Roberts picking up an injury, Jonathan Davies may be in the 12 channel. He played so well that you think 'where can we play him in the side?' I think he is coming into the equation as well."
On impressive areas: "One area I was really impressed with was the tight play, the maul in particular; I thought they moulded very tightly, very cohesively. They'll need that in the Test matches. The lineout was very good as well. They lost one that went to the back but most of the ball went to the front - so it was quite hard to judge on that - but the game-plan will need ball off the tail. They've also got to keep working on the breakdown."
Half-time thoughts (10-23): "It's the most impressive performance we've seen so far with some remarkable performances from a lot of the tall timber, like Tom Croft, Alun-Wyn Jones, Paul O'Connell. They've done an awful lot. But some of that interplay between Jonathan Davies and Johnny Sexton was world-class. There's been some great finishing as well."
Will Greenwood
On Roberts' early exit: "Fingers crossed he's ok. I'm sure all Lions fans will have their fingers crossed that his exit is merely a precaution and that we will see him next week because he's starting to have a big impact on this tour. He is a Test match player. No-one wants his tour to end like that. I feel sick for the lad right now. I did the same walk 12 years ago."
Watch the British & Irish Lions take on the Brumbies at 10am on Tuesday on Sky Sports 1 HD - then it's full steam ahead to the first Test against Australia, live on Sky Sports 1 HD on Saturday from 10.30am.