Our rugby experts share their views on Australia v Lions
Find out what our experts thought as the Lions won the first Test against Australia in Brisbane.
Last Updated: 22/06/13 3:48pm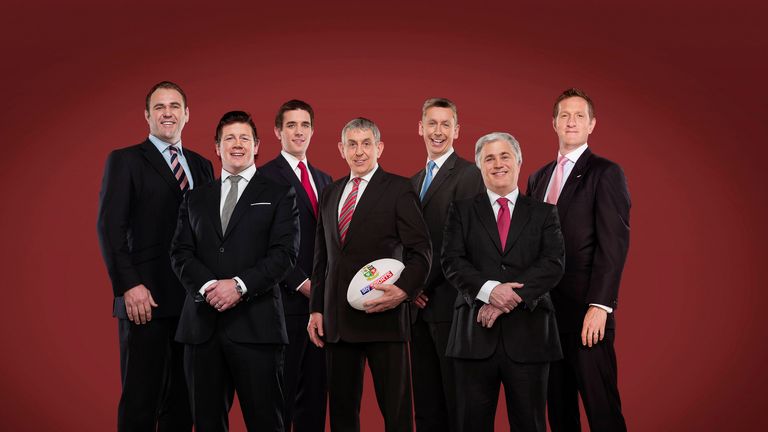 The game delivered on all fronts as both sides produced some outstanding rugby that kept fans on the edge of their seats. George North and Israel Folau caught the eye with some scintillating tries but in the end it was goal kicking which made the difference.
Leigh Halfpenny missed one for the Lions while James O'Connor missed two in the first half and Kurtley Beale two in the second half - his second a slip in the final seconds which would have won the game for Australia.
Our pundits, including Scott Quinnell, Ian McGeechan and Paul Wallace gave their expert views on the Lions fine victory...
Ian McGeechan
The Lions had to get the win tonight to get on the front foot. It was disappointing after they had scored the try in the first half because I felt the Lions lost a bit of intensity and allowed Australia the possession and the territory. The threat of Australia got greater and the Lions got a bit untidy and gave them that space which allowed them to kick the goals.
On the breakdown issues: Where the Lions will be feeling happy is that Mr Pollock will not be refereeing them again - I think there will be a different interpretation at the breakdown in the next two Tests which will favour the Northern Hemisphere approach to what happens there. But saying that, if that is the way the referee is refereeing then you had to adapt to it. If you complain that he is wrong then all you are doing is compounding the problems.
On North's try: George North's try was one of THE Lions tries. It will get repeated time and time again and rightly so. The Lions needed that try at that time and here was a young man saying 'right, I am going to make the difference'. Once he got away from the ankle tap and stayed on his feet not one of the Australians looked like they were going to stop him. When you can do that, then anything is possible.
On Australia: We saw in Folau's try Will Genia at his best. It was class thinking from him and the highest quality decision-making - he makes it look easy.
On Tom Youngs: He is a great front-row player but he has got a back's mind. He is in all the better places and knows where he needs to be. His tackle count and his involvement in the game was tremendous.
Scott Quinnell
I thought Australia were superb. You look at the three players that went off with head injuries and you hope they are okay. Michael Hooper going into the 12 position was going to be very difficult and at that point we thought that we were going to put them away. But they are Australia and they find a way - even in the dying moment they found a scrum that was good enough to win them a penalty that could have won them the game. They are never out of it. Yes this was a get out of jail for the Lions but it was a win. Hopefully next week the Lions can create history and that is what they have got to hold onto now. They did not play particularly well but they won a Test match!
There is still a huge amount to come from this Lions squad. Tonight they did not get the opportunity to go through the phases. What you have to remember is that they have not seen Australia play since last November. The Lions analysis team will be in there tonight analysing and by tomorrow will know how to exploit Australia.
On Lions pressure: All of a sudden you start to make mistakes and it feels awful. Your scrum goes away from you, then there is an odd penalty and then you are not sure what the referee is going to do at the breakdown area. Do you go in? Do you stay out? It becomes very difficult because you doubt yourself and you doubt your rugby ability because you are not sure what the referee is thinking. A bit of panic sets in and you try and hold on to your lead. When you are holding on then it becomes very difficult for you to play the way you want to play and dominate the game.
Mentally this game will be massive. Not a lot of these players have been to Australia and won. The Welsh boys lost three last year - two of them very close. But now they are back in the changing room looking at each other and saying 'Yeah, we won this one!'
I am surprised there was not a little more spice out there - you want to stamp your authority. It is not about 80 minutes, it is about a three-match Test series. Especially in the pack, you want to say to your opponent that it is not only here but 'next week I am coming back and going to have you again!' That is what it is all about.
On Leigh Halfpenny: He was absolutely wonderful. What was it - one miss? He is human! But look at the way he played - not only his kicking but the way he came looking for work. His heart is huge and he typifies everything that it is to be a Lion. He puts his body on the line and when it is needed he is as cool as a cucumber.
Paul Wallace
You do get a bit of luck to win these close Test games but if you look in the first half I felt that the Lions deserved it a bit more. They had the breakdown issues but I thought the Lions created more and should have got a few more scores on the board. I think one of the big areas of concern was the scrum late on - I thought we would have had a bit more of an advantage but we sort of faded away.
I think the Lions could have done a bit more mauling in the second half - especially when you have a referee who is inconsistent at the breakdown and you are coming out on the wrong end of it.
On the Lions scrum: There are things that can be worked on. Dan Cole in particular was scrummaging very high. If he starts to get his shoulders below his hips a bit more then they can get themselves into a more solid position.
Over the next seven days there will be a lot of work done on the breakdown. They will also reinforce the line-out and the scrum as well - maybe looking to get that lower height. They will have the confidence going into the second Test and I am sure Warren Gatland has held a few things back for the next Test!
Rod Kafer
On the breakdown: They should know because that is the way Chris Pollock always referees the breakdown. He likes a free-for-all - he likes players to keep on attacking. If Gatland had done his homework then they should have been prepared for that - the Wallabies were and kept on fighting.
It was a great Test match, we loved every moment of it - except the end result. The Wallabies will be disappointed they could not close the game out; they have been able to do that in recent games. They had two obvious chances to win after they had fought their way back into the game.
On Wallaby injuries: They have their backs against the wall and the injuries won't help. Christian Leali'ifano is a real important one but there are concerns for the other players too. They will have options of bringing in the likes of Jesse Mogg, Joe Tomane is not far away from getting back so there are guys who can come in. Quade Cooper is another one who could somehow magically appear in the side. There is plenty of good three-quarter talent in Australian rugby.
Dean Ryan
That last 15-20 minutes was an emotional rollercoaster - for Kurtley Beale more than anyone. Two chances to win the game - he slips in the final seconds after Australia win a penalty at the scrum and that was the game gone. It was a terrible end for a man who defined Australia's recovery; Beale was at the centre of it energy wise. The Lions were hanging on but it is a first Test win and they will get better and they will get stronger. The score just shows how close this Test series is going to be and anyone who wrote Australia off will have to think ago. Australia lost a lot of players to injury and they are probably going to have to go to someone like Quade Cooper as resources are thin.
The Lions will be looking to refining certain areas for the next Test. From 50 minutes in Australia played with a flanker at 12 and they should have been able to capitalise on that more - they got it once with the Cuthbert try but that was it. The Lions also struggled with the interpretation at the breakdown and when they made substitutions - when Vunipola and Cole came on - the Lions struggled at the scrum. That will be a concern.
There are also concerns that they can only get lineout ball at the front which puts them on the back foot. Mike Phillips had a relatively small role for such a big player and that is because of where he got the ball - that front lineout ball forces him to pass rather than run. There will be some tinkering and they will have to refine where they get their attacking ball if they want to get the best out of their attacking players like Phillips. But we have won the first Test - if we win the series who is going to be worried about details?
Watch every Lions game live only on Sky Sports. Click here to sign up or upgrade now.