Our rugby experts share their views on the Lions winning the series in Australia
Find out what our experts thought as the Lions won their first Test series in 16 years.
Last Updated: 06/07/13 4:06pm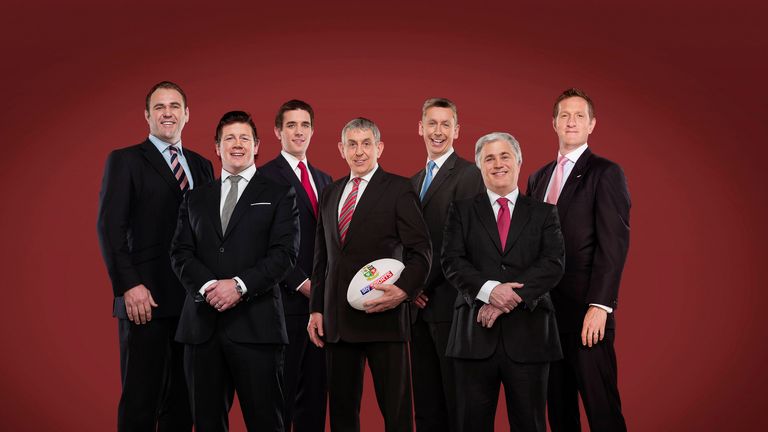 The Lions could not have started better as they pounced on an error from Will Genia to pile on the pressure and get an early try through prop Alex Corbisiero.
Corbisiero continued to have an impact as he and Adam Jones demolished the Wallaby scrum and gave their backs that front foot ball that was missing from the first two Tests. Leigh Halpenny made the scrum penalties count as the Lions opened up a 19-3 lead.
However Australia hit back and it was game on early in the second half as they narrowed the gap to 16-19. However the Lions did not panic and their backs started to dominate as much as their forwards. Johnny Sexton, George North and Jamie Roberts all went over for tries - totally vindicating Warren Gatland's controversial selection gamble.
Our pundits, including Scott Quinnell, Sir Ian McGeechan and Paul Wallace gave their expert views on the history making Lions...
Sir Ian McGeechan
The Lions had to win that game twice! 19-3 and then after it was 19-16 then they had to come back and I thought that was tremendous. They will never forget tonight, they have done something and achieved something very special. They may not realise it until maybe six months down the line or understand the real impact of what they have done. Come Monday these people will go their separate ways but Australia 2013 will never be forgotten.
The Lions brand has just got stronger, they have raised the level and made Lions history. What we have also seen with all the interviews is that it is not just the test team that makes the Lions - it is the whole support group. It is the midweek side, it is the coaches and the support team. I am delighted for Graham Rowntree, in 1997 he was brilliant but was just slightly off the Test side. The core of the Lions values is in the whole group. There are very few sporting groups who can say winning is about everybody.
Leigh Halfpenny was outstanding the whole tour, Australia did not know who to watch. They were looking for North and looking for the other threats and in comes Jamie Roberts for his try.
Stuart Barnes
It is a wonderful time to be wrong. I had my doubts about Warren Gatland' selection and at 19-16 when Australia came back you wondered if the Lions had the leadership. They did and they did everything right. I had a sheet of A4 paper and I wrote down all the strengths and weaknesses as to who would win. I kept on coming back to Australia. I saw Geech in the street and he said he was pretty confident that the lions would do it. he looked me in the eye and said this is the Lions. I went away and thought that sometimes sport is not about logic. Logic does not have 35,000 fans travelling half way around the world to watch you. Today everything clicked and I was wrong.
They dominated the gain line and the set piece and what has made me so happy is that for once we have not come down to the SH and won purely by forward power. The Lions created some wonderful scores and it is wonderful that Leigh Halfpenny is not just the player of the series because he has kicked lots of goals but he also created two brilliant tries.
The Lions laid the foundation with their forward power -a ll of Australia expected that but they did not expect the clarity or the clinical quality or skill of the Lions back play. It was exhilarating to watch.
Scott Quinnell
I think these players have found another level to their game. It was a wonderful performance, right out of the top drawer. They cannot underestimate what they have done here today, they did believe in themselves and they went for the jugular. They said they were going to come into this Test with the power game, they said they were coming with the big scrum. And they did! They did not shy away from anything. You look at the age of this squad - they are going to be even better in four years' time and that is what really excites me. This group can be very proud of what they have done.
I will tell you how they will remember this tour - five Lions series victories in 1205 years. That is what they have done and that is what they will be remembered for. They are now amongst the Lions greats and it is absolutely wonderful.
Paul Wallace
Everyone bought into the same ideals and it was left to the last 23 and what they bought was just amazing. When you think of the hurt that the core group of this squad would have suffered four years ago in South Africa, this is just a perfect day for them.
I have had the feeling for a few days now that the Lions would do this, with Roman Poite I thought that the Lions scrum would be allowed to scrummage and that is how teams beat Australia - you dominate them upfront. Four years ago Adam Jones was one of the real heroes in South Africa but he had the toughest role in the scrum today and he just kept it going and he is a true Lions hero.
on Brian O'Driscoll: Four lions tours in the professional era, what a great servant he has been to Ireland, Leinster and the Lions. He has been amazing and you can see by the joy in his face that he has been completely behind this squad. He is what a true Lion is - you get behind everyone else. His leadership along with Paul O'Connell and Sam Warburton that helped them this week.
Phil Vickery
I am happy to say that that was one of the greatest Lions performances I have seen in modern times. It was an absolute stunning performance. The Lions made it look very easy at times - that is to take nothing away from Australia. But from the minute they started to the minute they finished the Lions did not stop, they just never gave up and I am extremely proud of northern hemisphere rugby today.
Brian O'Driscoll has been a superstar of rugby, an icon and an inspiration. Warren Gatland felt that it was not the right game for him and unfortunately in professional sport when jobs and reputations are on the line and it is about winning a Test match then sentiment goes out the window. I was as sad as everyone else when Brian was dropped but the reality is that the Lions have won a test series. Everyone stood up today and got what they deserved.
I thought Jonathan Sexton had one of his best games today. he really controlled the game, he stepped up and really drove this Lions team around. but it all started in the forwards. Adam Jones was outstanding, Richard Hibbard, Alex Corbisiero, Alun-Wyn Jones those guys just set the standard from the beginning. They won the psychological and physical battle and got he Wallabies on the back foot. They did come back but they just did not have enough and the Lions ran riot in the end.
Will Greenwood
The boost and the self-confidence these players will take away from this is just massive. Next time they play a southern hemisphere team that giant elephant in the room that you struggle to get over is suddenly not so big. Speaking to Warren Gatland you could tell how much it hurt him to drop Brian O'Driscoll and you can tell how much he backed those players to go out and do it. It was an enormous call and he had some people saying he had made the biggest mistake in northern hemisphere rugby history. He has been totally vindicated for being a ruthless, hardnosed winner. He has finally delivered us a Lion series victory.
Leigh Halpenny total control of the real estate at the back of the field gave the Australians nothing
The selection of that backline was all vindicated. The use of decoys, the interplay and the desire to go out and beat Australia, not just try and nick it.
History will judge this side as one that has incredible levels of self-belief. To come here to Sydney, to this magnificent stadium and not just win but destroy the wallabies.