Heineken Cup views
See what the Sky Sports experts have been saying about the big Heineken Cup stories.
Last Updated: 21/10/12 5:12pm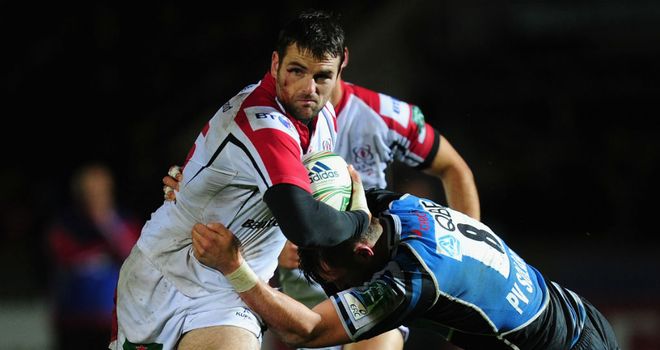 Scott Quinnell on the Leicester late show that stunned Ospreys 39-22
"Pace, power and precision. They really did finish that game off superbly well and they've got a huge amount of confidence at Welford Road. Tuilagi was superb - he didn't off-load or pass an awful lot, but he gave them targets and got over that line. The same can be said of Waldrom, who had number seven on his jersey but plays as he does at eight; he just got over the gain line. I thought Youngs and Flood were superb in the way they controlled the game and controlled the back.
"The Ospreys, in the second half, gave far too many penalties away and allowed Leicester to get into positions, but Toby Flood was kicking from 50m, 60m, anywhere! There were a couple of individual errors by Ospreys that allowed Leicester to come back into the game, but when Leicester's heads came up they were superb. Steve Mafi looked like he was playing on the left wing for most of the last 10 minutes. They were superb at getting over the gain line and had far too much power for the Ospreys in the end."
Dean Ryan on Clermont's emphatic thrashing of Exeter
"Sometimes you feel quite privileged to be in this role. For the 20 minutes post half-time the rugby was just sublime; it was a mix of power, pace and it ended at the end of 40 minutes like watching a good friend in a boxing ring coming on the wrong end of it. You almost just wanted it to end because the contest was gone. For all of Exeter's work rate and for all of their courage, they just didn't have an answer.
"I think there are only two sides that could handle that 20-minute spell without folding completely; Toulon are a coming force and Leinster of last year. We're yet to see whether they've got that power this year. I can't think of anybody else that could do that and that's where we've got to put that into context because there's no point saying it's Exeter's first Heineken Cup. Exeter were fantastic, brave and courageous, but it was just worlds apart."
Paul Wallace on Munster's second-half improvement as they overcame Edinburgh 33-0
"Munster are building the roof in the first half and the foundations in the last 10 minutes! At half-time they turned around and it was back to old-style Munster; a big mauling game around the fringes. That's where the space was and they created the space. When they played the wide game, everyone was too flat.
"Tony McGahan was trying to do it for the last couple of seasons and it hasn't really worked; they always start off early in the season trying to play this expansive game. Look, this might not be the prettiest rugby in the world, but it's winning rugby. Munster Rugby is about intensity, good forward play, commitment, heart and intelligence. Why don't they just start playing that intelligent rugby?"
Will Greenwood on Ulster's 19-8 victory in rain-soaked Glasgow
"In those conditions it's all you can ask for. It's never about getting a five-point win; it's about going away and getting back on the ferry or the plane with the victory under your belt. The start of the second half was crucial with the kick from the line-out and the interception from Jackson. They pinned and pinned Glasgow - they couldn't get out of their half - and they had the power plus they picked up the penalties and weighted the line-out. It was a classic old fashioned "Muster" performance. They just squeezed them and said 'forget about five points or four points, let's look forward to December'.
"We talk about getting two scores in front and once they did they were happy to kick. It was a deserved win, no doubt they were the better side tonight, they coped with the conditions better, their error-count was lower and they walk away with four points. Northampton are a strong side, but I think Ulster have to be slight favourites for this group."
Ieuan Evans on Scarlets' defeat to Leinster
"Defensively in the first half they were all at sea. They tightened up in the second half and scored a terrific try from Gareth Maule - it's not often you see Brian O'Driscoll being stood up and left behind - but really the detail let them down badly. The set piece didn't work, the scrum was really under pressure and there were turnovers of the ball too often. Generally, they were not on their A-game and they struggled.
I think Leinster were worthy of their win. The hard work was done in the first half, Shane Jennings was the key player in the first half and with regards to the backs, Priestland did okay but Sexton, even though he missed a couple of kicks at goal, really marshalled things very well for me. I have to mention the kicking as well. There was that sumptuous drop goal from near the half-way line and there was a little high kick as well. The mix of the kick was really spot on.
Shane Horgan on an underwhelming 30-14 victory for Saracens over Racing Metro
"Saracens are probably the only side that could beat a French side 30-14 and you're still disappointed in their performance. The next couple of weeks are going to be vitally important for them, but they're not an off-the-cuff team and that is concerning. They do play a very structured game - and they're very good at that structured game. They were excellent in the first half when things were structured and they were rolling the ball behind the forwards and everybody seemed to know what they were doing. But when the game broke up and loosened up they lost direction a lot. They didn't look like a team that could score tries."