Jonny be good
Jonny Wilkinson speaks exclusively about the mental release of life after England retirement.
By Peter Fraser - Follow me on Twitter @SkySportsPeteF
Last Updated: 22/06/12 12:01am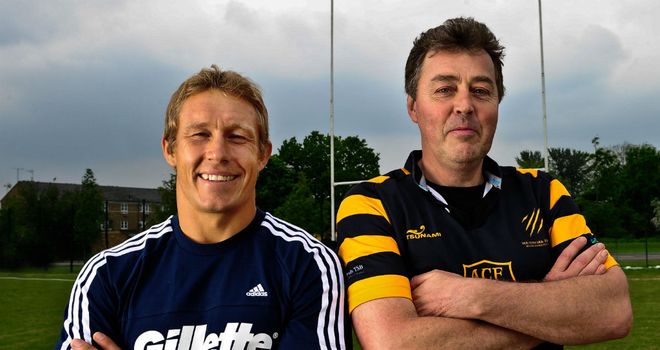 "I have just been more or less relaxing on holiday," said Jonny Wilkinson before a brief pause as he reflected on his current summer break from Toulon. "Actually, I tell a lie. I have been training pretty much full on."
It was a characteristic answer from the legendary fly-half as he spoke to skysports.com this week. He cannot switch off and openly admits there is a "horrendous" obsessive side to his personality. He may have retired from international rugby. He may be on his close-season time off at club level. But rugby remains at the front of his mind.
Six months have now passed since 2003 World Cup winner Wilkinson decided to call an end to his England days, bringing to a conclusion 13 years, 91 caps and 1,246 points. But when we last spoke to the 33-year-old in December, he insisted there was going to be "no step down" in the intensity of his Toulon career.
Half-a-year on from ruling himself out of contention of again pulling on the No.10 jersey of his country, the obvious starting question would be to ask whether life purely as a club player is satisfying his fierce ambition, whether there have been any regrets, whether international retirement was the wrong decision.
But despite intentionally not paying too much attention to February's RBS Six Nations, because he needed time to come to terms with his absence, and despite being just a viewer on Saturday afternoon when Stuart Lancaster's new-look England seek a first win in the final match of a three-Test tour in South Africa, Wilkinson has had no second thoughts.
"It has been an interesting experience and journey," Wilkinson told skysports.com when discussing life since hanging up his England kicking boots. "But it was a decision that, pretty soon afterwards, I realised was a good one. That is because, firstly, I was not thinking about it that much, which is a huge sign for me. And, secondly, when I saw the England squad, the feel of that squad, the togetherness, I just knew it was right for those guys to be together, doing what they are doing and doing it so well.
"I realised that I spent quite a few years fighting and swimming against the tide that was telling me it was not right. I was fighting, because that is what I do. That is what I love to do. I love to say, 'I can be the best. I want to be the best', instead of actually stepping back and reading the signs. When I look back, the signs had been there that it was time for England to go in the direction they are going, and it looks great.
"I think, myself, I have been pretty convinced by the whole thing (international retirement). It has been a nice time to do it. I spoke to Stuart Lancaster on the phone. I said, 'mate, I think I'm pretty much out'. He totally respected the decision and said it gave him carte blanche to go ahead and get some young guys, throw them in and see where England go. When he said that, I knew it was the right decision. I would hate to be in the way of someone who should be where I am, getting what I'm getting, or could possibly do a better job.
Horrendous
"I thanked Stuart Lancaster for his time and wished England the best of luck. I knew it would take a bit of time to sit back before I could watch England without that pang, that feeling inside and the desire to be back there. So in the first Six Nations, I did not really take too much time to get involved. But now, this summer, I am hugely interested in what the guys are up to and desperate to watch them make the next step."
It is easy to understand Wilkinson's torment. In his autobiography, 'Jonny', he honestly described his fear of failure and his despair at the seemingly endless succession of injuries which had blighted his career. Self-doubt remains a part of his life and so the fact his England retirement has not been playing on his mind is taken as a positive. It was a choice as a result of more than a year's thinking process and so the announcement was almost a pressure valve.
"There is no doubt about my obsessive side," Wilkinson admitted. "It is pretty horrendous at times and it is not something I switch off or on. So therefore it is not something I sit back and say, 'I've got an obsessive side'. From a gauging point of view, the fact I was not sat there thinking, 'what now?' or 'should I have done that', has made me realise it (England retirement) was a decision that had not touched that burning core inside me. When things get that deep, I know I am in trouble. When something really gets me at that level, it is going to touch on my obsessive side and I cannot do anything about it.
"That decision did not do that. I knew it was right. I did it and I moved on. Maybe there was a touch of release in it, because I have been fighting it for so long. When I stopped, my body said it was relatively common sense. Sometimes when I make a decision and I'm not sure about it, I feel like I have got a needle which goes from one side to the other, yes to no, constantly through the day and I cannot stop thinking about it. This one, there was not anything to do with that."
The mental pressure of sport was something Wilkinson was "a bit naive and deliberately ignorant" about when suffering from "unbelievable" childhood nerves as a member of Farnham Under 10s in Surrey. He grew up drawing pictures of his dreams of playing for England. He did not consider how he would be impacted upon when playing in front of a sold-out Twickenham.
So has international retirement, the process involved and the associated personal and psychological benefits made him think about life after rugby and the escape from such self-scrutiny? Having flourished in his three years at Toulon, enjoyed the lifestyle of southern France and reached the past season's finals of the Top 14 championship and Amlin Challenge Cup, the signs are positive for the future. But Wilkinson knows the day will come when he can no longer play the sport he loves.
"I guess I am trying to be responsible, like we all are in professional sport, to acknowledge there is an end and you have to prepare for it a little bit, because life is very different on the other side of the white line," he explained. "The international retirement, and even the consideration, was a nice precursor to that next decision. It has forced me to understand these things. Not so much, 'what am I going to do next?' but more the injuries, which were the first part, and then 'hold on, there is life outside of rugby. You are not prepared for it and you have no identity outside of rugby'.
"International retirement was the next stage along that path. There will be a time when 15,000 people are not watching, in fact, there is no-one watching. The impermanence of life is that sharp. You cannot ask people to still write about you, or say this and say that. You are gone. It is the same with any job. As much as you still want to be in the thoughts of people, you are gone. It makes you realise that is going to happen to you. Life moves on."
Achievements
Part of that moving on process has led Wilkinson to venture into the world of social networking. Surprisingly for such a deep and personal thinker, he has joined Twitter (@JonnyWilkinson) and, only six months after opening his account, has already acquired just less than 60,000 followers. His tweets so far have ranged from a comedians XV and film star XV, a theme for which he has "a few more up my sleeve", to philosophical thoughts on professional sport.Wilkinson joked of his decision to sign up to Twitter: "How about that? It was a funny one, actually. I realised I had to get an identity outside of rugby. I had to understand how the world works. I am no different on Twitter to how I am in person. The world of social networking is not something I ever pictured myself doing. But understanding life goes on. I have numerous conversations with my brother about it. I have no idea what I am going to write on Twitter. I have no idea whether anyone wants to hear it. But I gave it a go. Every now and again I chip in with some banal rubbish that probably passes for a tweet. It is still something I am not particularly comfortable with. But I am getting there."
Wilkinson is also looking for other hobbies. He has plans to gain his boating licence and is also waiting for Toulon team-mate and New Zealander Carl Hayman, who he has known since their time together at Newcastle, to give him "the lowdown" on surfing.
"I have got as far as getting a wetsuit," laughed Wilkinson with regard to hitting the waves. "I need to get moving on those. I am really excited about doing it."
A move into coaching is another possibility for Wilkinson after his playing days come to an end and he has previously spoken about his passion for passing on training tips to fellow rugby players. He is currently involved in a 'Great Start' programme with Gillette, which recognises the achievements of sports coaches at amateur level and attempts to inspire the next generation to get into coaching. He recently spent a day working as an assistant to Vernon Neve-Dunn at Southwark Tigers RFC in London in order to acknowledge the fine work being done at the club.
"We are celebrating coaching and the idea of giving everyone a great start," said Wilkinson. "The idea was to celebrate a coach who deserved recognition. There are so many out there but the aim was to find one who deserved recognition for all their unsung hard work. We went to surprise him to say well done, because he has given players an opportunity, which, basically, everything was saying they should not have had. All logistics suggested it was not possible but one guy made sure that was not the case. What better role model and example do you want to offer as to what great coaches and great starts are all about?"
For now, though, Wilkinson will focus on life as an England fan and the final Test against South Africa. It will not be with a sense of regret but the feeling of a supporter. Fine lines have been the difference between victories and defeats for Lancaster's men in Durban and Johannesburg. However, success in Port Elizabeth this weekend might not be far away.
"Decision-making and getting the ball in the right places at the right time is the responsibility of everyone in the team," said Wilkinson. "It is not just one person. It is about communication, foresight, game management and emotions. It is day-by-day, which comes from the team sticking together, getting to know each other and getting accustomed to playing in environments where the heat is on all the time. It is a cut-throat world where it can mean a misstep is the end of the hopes of everyone. It will just take a bit of time. But there is nothing to say they cannot get it right on Saturday. I am pretty sure England will."
To see Jonny Wilkinson paying tribute to club coach Vernon Neve-Dunn as a part of Gillette's Great Start Campaign, visit facebook.com/GilletteUK