Jonny's future
The Toulon star and England legend speaks in depth to Sky Sports and reveals he could announce his retirement in February but still holds a Lions ambition
By Peter Fraser - Follow me on Twitter @SkySportsPeteF
Last Updated: 17/01/13 8:43am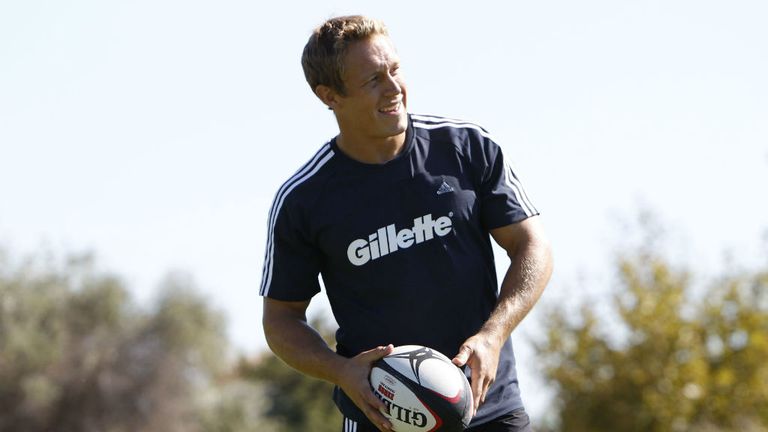 For Jonny Wilkinson, no decision is ever taken lightly. The search for perfection and associated mental torment of striving to be the best have long been much-publicised factors in a star-studded, World Cup-winning career. He now stands at another crossroads.
The Toulon fly-half and England legend, who called quits on his international playing days in December 2011, is widely regarded as one of the most talented players in the history of rugby and he remains a celebrated icon.
Wilkinson, now 33, has seen his playing days revitalised since moving to the south of France in 2009 after previously being ravaged by injuries and he has helped his club to their current position at the summit of the Top 14 table. A Heineken Cup quarter-final spot has also already been secured ahead of Saturday's final Pool 6 game at Montpellier, in a season which has the potential for a domestic and European Double.
But the former Newcastle Falcons hero now has a new choice to make. He is still waiting for what he calls the "eureka moment" but his Toulon contract expires at the end of the season. He appreciates, after months of deliberation, in February he is likely to need to inform his club, who will be planning for next season, on his verdict of a potential summer retirement from all forms of rugby.
That would bring to an end a career which began in 1997 and has included scoring more than 1,800 club points through a combination of dedicated training, match-day physical commitment and unrivalled skill.
Having wrestled with the choice of international retirement just more than one year ago, Wilkinson knows reaching a conclusion on his future is far from straightforward. He wants what is best for Toulon. However, it is also time to think about what is correct as an individual.
"That is interesting," said Gillette ambassador Wilkinson before pausing for thought in an exclusive interview with Sky Sports when asked about the scenario of making a personal decision in a team sport. "I cannot lie, it does involve thinking about yourself. But, ultimately, I know as well that what is best for me is determined by whether it is any good for the team. One thing I cannot bare is being involved in something where you do not belong or should not be. My involvement needs to be for all the right reasons.
"From an individual point of view, I do not want to play a year too long. Some people might say I have already done that [laughing]. I do not want to go into that zone, because it costs so much in terms of the drive, the mental energy and the preparation. It does cost a lot and I love it but I want to always know there is a positive at the end of it. That is the individual part but, yes, you are right, in a team sport, it is interesting what the decision comes down to.
Skill
"At the same time, maybe that is the only negative of this situation. All the other positives are that I am fortunate to have an amazing team and coaches full of people who are willing to say to me, 'well, you decide'. In sport, you have people saying to you, 'we will or we will not renew your contract'. I am fortunate enough to have that decision. The problem is, with my competitive nature and drive to do well, I do not quite know where I stand."
Wilkinson's career has, in his own words, previously been blighted by 'obsession' to be the best, excruciatingly in-depth analysis of performances and dwelling on issues which did or did not meet his exceptionally high standards. He has spoken honestly in the past about his consequential battle with depression. It is a horribly complex situation yet he is not someone looking for sympathy.
He knows his career has been about learning and dealing with pressure. But he is also aware the weight of expectancy and focus is becoming an unwelcome burden. He is now, at times, looking for distractions away from rugby. He has not fallen out of love with the sport, he just knows he needs to "find a different balance".
"It is difficult to tell, because if maybe I put myself back in the shoes of my 21-year-old self, I would not think this but life just seemed to come so simply back then," said Wilkinson when discussing how he has changed throughout his career. "It is the early stages. You are still at the bottom of the mountain and looking up at what you can climb and where you can go. With that in mind, it creates this simplicity to every decision and you are also more physically able to deal with every... I do not know how to describe it... fork in the road, every challenge. It falls into the stride. Ultimately, it makes you wonder if you could maybe have made more of it. If you are able to sit back, it might let you be a bit more planned. But, at that age, everything just looks after itself. You go to training, you go home.
"What I do know, for me at that age, is that rugby consumed me in such a way that I thought about nothing else. I loved that. Whereas, now, I have to think about other things. Mentally, I cannot stomach being consumed by rugby the way I used to. I am not able to do that. Maybe, with the age, I have got increased responsibility and there is more pressure. Maybe I just see it that way. Whatever it is, I now crave a break."
Wilkinson knows a decision on his future will come from a gut feeling while playing on the field with Toulon rather than "trying to put numbers to things, formulas and listing pros and cons". And that rugby instinct is what has led to widespread predictions he will stay connected with the game by moving into coaching after playing.
The No.10 has been influenced over the years by famous kicking coach Dave Alred and he sees himself possibly following in the footsteps of one of the most influential figures in his life. But any fans who might dream of seeing Wilkinson as England's head coach any time in the near future will likely be disappointed.
"I adore coaching individuals on a skill basis," he said. "At the moment, I feel, if I am qualified to do anything, I am qualified to do that, because of the time and energy that has gone in to doing it in my own life. So, if there is a coaching road ahead somewhere, it would be within that framework of one-on-one and getting people through the skill-set. I would adore doing that. From a team point of view, it is not really my area right now, I do not think."
Fortunate
Viewers of
Sky Sports
will over Christmas have seen former England head coach Sir Clive Woodward, who led Wilkinson and his squad-mates to victory in the World Cup in 2003, interview England football manager Roy Hodgson as a part of the 'Sporting Heroes' series.
In the television programme, Woodward suggested England's footballers could cure their penalty shoot-out yips by learning from Wilkinson's regimented training and kicking technique. So, from a coaching perspective, does the man himself think this would be possible?
"I guess there is always an opportunity to get better and create an inevitability to what you are doing," said Wilkinson. "But when I am kicking in rugby, it is always the same. With football, it is a touch sport and there are different aspects. You are also talking about having a goalkeeper, so you need to consider disguise. In rugby, you can have a certain run-up. Where you stand at the end of your run-up pretty much dictates where the ball is going. If you have that in football, the goalkeeper knows where the ball is going.
"What is possible is the principles - a clean strike, power transfer, weight transfer, trajectory and control of the ball. But, on a certain day, the aim and the position of a wall and the goalkeeper can all change. Drop goals in rugby are more like football. They are the hardest thing to teach in rugby. Ultimately, you can practice in a sterile environment but, as soon as you go out to the field, so much of that goes out the window.
Wilkinson is continuing his ambassadorial work with Gillette into 2013 and is thrilled the brand will still provide backing for coaching schemes in partnership with sports coach UK. He said: "It is about helping people to be the best they can be and that lasts forever. That is why it is fabulous that Gillette are so supportive of the drive behind coaching."
But on the immediate future and before any potential retirement, is what remains of his playing career. That could include a place in Warren Gatland's British and Irish Lions squad for the tour of Australia in June. And while that would depend on Toulon's progress, with the play-off final taking place on 1st June, the same day as the first Lions match in Hong Kong, Wilkinson is not totally guarded about his desire.
"It is not something I want to talk about too much, because it could be a lot of words on a page about nothing," said the six-time Lions cap. "The selectors, committees, management boards and coaches will be looking at so many players who are performing brilliantly at international level at the moment. They are guys who deserve to be there and deserve to be taking the game forward.
"What you can say is that it (playing for the Lions) is an enormous honour and one I am fortunate enough to have had before but never in a winning sense. It (this summer's tour of Australia) is something you would love to be a part of, say, 'I was there' and to give everything for it. But there is not a player in European rugby who would say differently about playing in that environment. By going every day as hard as you can and giving it everything you can possibly afford, if there is any chance it might happen as an outside shot, then maybe the dream can stay alive. But I do not think about it too much, because I know I am an older guy who has retired from internationals."
Jonny Wilkinson is a Gillette ambassador. Gillette are supporting coaches this year in partnership with sports coach UK